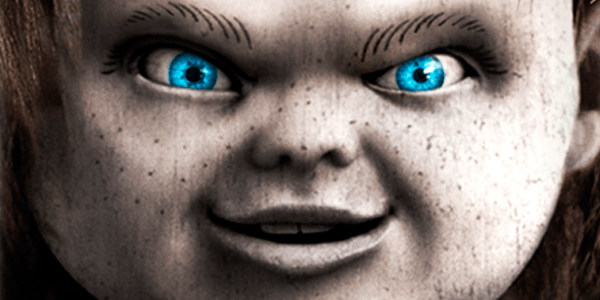 Full Review
That troublesome doll of murder, mischief & mayhem is coming back in Curse of Chucky. Also, on the same date the film hits Blu-Ray & DVD, all the films – including the first Child's Play – will be hitting Blu-Ray & DVD in a collection set. Read below for all the details.
Trailer
Please enter the url to a YouTube video.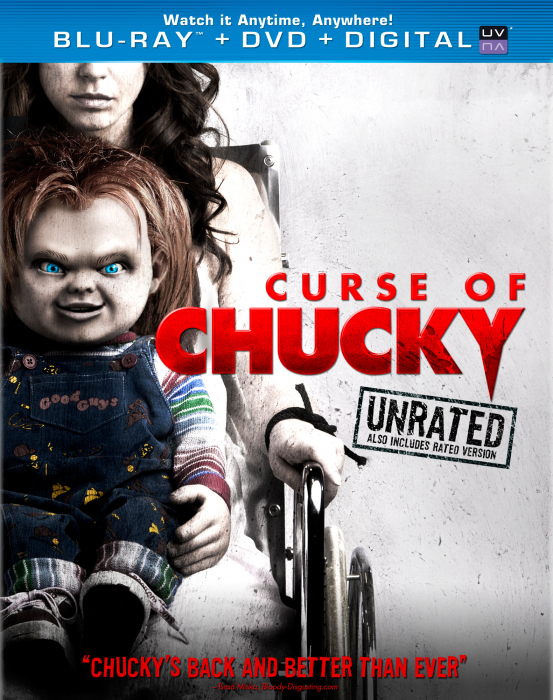 From the Press Release for 'Curse of Chucky'
Terror returns in a deceptively tiny package when Curse of Chucky, the newest installment of the chilling Child's Play franchise, comes exclusively to Blu-Ray™ and DVD on October 8, 2013, from Universal 1440 Entertainment, a production entity of Universal Studios Home Entertainment.  Also available on Digital on September 24, 2013,Curse of Chucky reunites franchise creators Don Mancini and David Kirschner as Chucky returns to horrify viewers in an all-new, unrated chapter of the blood-soaked suspense saga that James Oster of ArrowInTheHead.com gleefully calls "Delightfully deadly."

"It has been a quarter of a century since fans were first petrified by Toyland's most lethal serial killer in Child's Play" said Glenn Ross, General Manager and Executive Vice President, Universal 1440 Entertainment.  "Now, twenty-five years later, the deadly legacy continues as Chucky resumes his disturbing reign of terror, delivering more of the blood-curdling scares and bone-chilling twists that have cemented his place as one of the world's most legendary horror film icons."

Written and directed by Mancini, Curse of Chucky finds a family imperiled by the murderous doll that launched a generation's nightmares – determined to finish a job that was started long ago. The film stars Fiona Dourif (The Master, "True Blood"), A Martinez ("Longmire," "General Hospital"), Danielle Bisutti (Get Smart, "CSI: Miami") and Brennan Elliott ("Flight 93," Double Jeopardy), with Brad Dourif (The Lord of the Rings) once again providing the voice of Chucky, the homicidal plaything inhabited by the spirit of notorious serial killer Charles Lee Ray.

The Blu-Ray™ Combo Pack allows fans to view Curse of Chucky anytime, anywhere on the platform of their choice. It includes a Blu-Ray™ disc, a DVD, and Digital including UltraViolet™ for the ultimate, complete viewing experience.  Additionally, Chucky: The Complete Collection Limited Edition is also available on Blu-ray™ and DVD on October 8, 2013 in the United States only.  For the first time ever, Chucky fans can experience all six movies in one must-own set, including Child's Play, Child's Play 2, Child's Play 3, Bride of Chucky, Seed of Chucky and Curse of Chucky.

Blu-Ray™ disc unleashes the power of your HDTV and is the best way to watch movies at home, featuring perfect hi-def picture and hi-def sound.
DVD offers the flexibility and convenience of playing movies in more places, both at home and away.
UltraViolet™ is a revolutionary new way for fans to collect their movies and TV shows in the cloud. UltraViolet™ lets consumers instantly stream and download to tablets, smartphones, computers and TVs, including iPad®, iPhone®, Android™ and more.
Also includes Digital Copy.

Bonus Features Exclusive to the Blu-rayTM:

Living Doll: Bringing Chucky to Life:  Featuring the award-winning work of animatronics company Alterian, this featurette shows the pain-staking detail involved with bringing Chucky to life and the army of people behind the process.
Voodoo Doll: The Chucky Legacy:  More than six films and a quarter of a century, Chucky, the possessed Good Guys doll, has been the playmate we love to hate.  This featurette looks at why we're still frightened by the red haired terror and recalls some favorite moments from the previous films.
Storyboard Comparisons

Blu-rayTM and DVD Bonus Features:
Deleted Scenes 

Gag Reel 

Playing with Dolls: The Making of Curse of Chucky: From scripting, to casting to shooting, this featurette proves that playing with dolls is definitely not child's play!  Follow the cast and crew of Curse of Chucky as they bring the newest and scariest chapter in the series to the screen.

Feature Commentary with Director Don Mancini, Puppeteer Tony Gardner and Star Fiona Dourif
Details on 'Chucky: The Complete Collection'
Set a play date with Chucky as all six movies come together for the first time in the chilling Chucky Complete Collection Limited Edition. The killer doll torments his original victim, young Andy Barclay, in Child's Play, Child's Play 2 and Child's Play 3. Then the ruthless redhead teams up with his dream doll, Tiffany (Jennifer Tilly), in Bride of Chucky and Seed of Chucky. Chucky is back again in Curse of Chucky to terrorize a family with whom he shares a mysterious connection. Oozing with hours of bonus materials, the Chucky Complete Collection Limited Edition is a thrilling, chilling, campy, must-own set.  Wanna play?
[toggle title=""]
Blu-ray Widescreen Multi-Feature Limited Edition(61127365) : Disc 1 (Side A): Child's Play 
 Format:
Blu-ray
 UPC:
0-2519-21965-9-1
 Unit Type:
Multi-Feature
 Number of Media:
1
 Street Date:
10/8/2013
 PreOrder Date:
 Run Time (HH:MM):
1 Hour 27 Minutes
 Language:
English
 Disc Type:
BD-50 (Single Sided)
 Packaging:
Digipak with Outer Box
 Layers:
Single
 Audio:
English DTS-HD Master Audio 5.1
Portuguese Dolby Digital 5.1 Surround
Spanish Dolby Digital 5.1 Surround
 Subtitles:
English SDH
Spanish
Portuguese
Cantonese
Korean
 Edition:
Limited Edition
 Picture:
Widescreen
 Version:
-
 Color/B&W
COLOR
 Rating:
Not Rated
R
 CARA Rating:
-
 Bonus Features:
• Feature Commentray by Alex Vincent, Catherine Hicks and "Chucky" Designer Kevin Yagher
• Feature Commentary by Producer David Kischner and Screenwriter Dan Mancini
• Select Scene Chucky Commentaries
• Evil Comes in Small Packages: The Birth of Chucky
• Evil Comes in Small Packages: Creating the Horror
• Evil Comes in Small Packages: Unleashed
• Chucky: Building a Nightmare
• A Monster Convention
• Introducing Chucky: The Making of Child's Play
• Theatrical
Blu-ray Widescreen Multi-Feature Limited Edition(61127365) : Disc 2 (Side A): Child's Play 2 
 Format:
Blu-ray
 UPC:
0-2519-21965-9-1
 Unit Type:
Multi-Feature
 Number of Media:
1
 Street Date:
10/8/2013
 PreOrder Date:
 Run Time (HH:MM):
1 Hour 24 Minutes
 Language:
English
 Disc Type:
BD-50 (Single Sided)
 Packaging:
Digipak with Outer Box
 Layers:
Single
 Audio:
English DTS-HD Master Audio 2.0
French European DTS Digital Surround 2.0
 Subtitles:
English SDH
Spanish
 Edition:
Limited Edition
 Picture:
Widescreen
 Version:
-
 Color/B&W
COLOR
 Rating:
Not Rated
R
 CARA Rating:
-
 Bonus Features:
Blu-ray Widescreen Multi-Feature Limited Edition(61127365) : Disc 3 (Side A): Child's Play 3 
 Format:
Blu-ray
 UPC:
0-2519-21965-9-1
 Unit Type:
Multi-Feature
 Number of Media:
1
 Street Date:
10/8/2013
 PreOrder Date:
 Run Time (HH:MM):
1 Hour 30 Minutes
 Language:
English
 Disc Type:
BD-50 (Single Sided)
 Packaging:
Digipak with Outer Box
 Layers:
Single
 Audio:
English DTS-HD Master Audio 2.0
French European DTS Digital Surround 2.0 Mono
 Subtitles:
English SDH
Spanish
 Edition:
Limited Edition
 Picture:
Widescreen
 Version:
-
 Color/B&W
COLOR
 Rating:
Not Rated
R
 CARA Rating:
-
 Bonus Features:
Blu-ray Widescreen Multi-Feature Limited Edition(61127365) : Disc 4 (Side A): Bride of Chucky 
 Format:
Blu-ray
 UPC:
0-2519-21965-9-1
 Unit Type:
Multi-Feature
 Number of Media:
1
 Street Date:
10/8/2013
 PreOrder Date:
 Run Time (HH:MM):
1 Hour 29 Minutes
 Language:
English
 Disc Type:
BD-50 (Single Sided)
 Packaging:
Digipak with Outer Box
 Layers:
Single
 Audio:
English DTS-HD Master Audio 5.1
French Canadian DTS Digital Surround 5.1
 Subtitles:
English SDH
Spanish
 Edition:
Limited Edition
 Picture:
Widescreen
 Version:
-
 Color/B&W
COLOR
 Rating:
Not Rated
R
 CARA Rating:
-
 Bonus Features:
• Bride of Chucky Spotlight on Location
• Feature Commentary with Director Ronny Yu
• Feature Commentary with Jennifer Tilly, Brad Dourif and Don Mancini
• Theatrical
Blu-ray Widescreen Multi-Feature Limited Edition(61127365) : Disc 5 (Side A): Seed of Chucky 
 Format:
Blu-ray
 UPC:
0-2519-21965-9-1
 Unit Type:
Multi-Feature
 Number of Media:
1
 Street Date:
10/8/2013
 PreOrder Date:
 Run Time (HH:MM):
1 Hour 28 Minutes
 Language:
English
 Disc Type:
BD-50 (Single Sided)
 Packaging:
Digipak with Outer Box
 Layers:
Single
 Audio:
English DTS-HD Master Audio 5.1
 Subtitles:
English SDH
Spanish
French
 Edition:
Limited Edition
 Picture:
Widescreen
 Version:
-
 Color/B&W
COLOR
 Rating:
Not Rated
R
 CARA Rating:
-
 Bonus Features:
• Slashed Scene
• Heeeeere's Chucky
• Family Hell-iday Slide Show
• Conceiving the Seed of Chucky
• Tilly on The Tonight Show
• FuZion Up Close with The Seed of Chucky Stars
• Storyboard to Final Feature Comparison
• Feature Commentary with Writer/Director Don Mancini and Puppet Master Tony Gardner
• Feature Commentary with Writer/Director Don Mancini and Actress Jennifer Tilly
• Theatrical
• Teaser
Blu-ray Widescreen Multi-Feature Limited Edition(61127365) : Disc 6 (Side A): Curse of Chucky 
 Format:
Blu-ray
 UPC:
0-2519-21965-9-1
 Unit Type:
Multi-Feature
 Number of Media:
1
 Street Date:
10/8/2013
 PreOrder Date:
 Run Time (HH:MM):
1 Hour 35 Minutes
 Language:
English
 Disc Type:
BD-50 (Single Sided)
 Packaging:
Digipak with Outer Box
 Layers:
Single
 Audio:
English DTS-HD Master Audio 5.1
French Canadian DTS Digital Surround 5.1
Spanish DTS Digital Surround 5.1
 Subtitles:
English SDH
Spanish
French
 Edition:
Limited Edition
 Picture:
Widescreen
 Version:
-
 Color/B&W
COLOR
 Rating:
Not Rated
R
 CARA Rating:
-
 Bonus Features:
• Digital Copy of Curse of Chucky – Unrated Version (Subject to expiration. Go to NBCUCodes.com for details.)
• Includes UltraViolet (Subject to expiration. Go to NBCUCodes.com for details.)
• Gag Reel
• Playing with Dolls: The Making of Curse of Chucky
• Living Doll: Bringing Chucky to Life
• Voodoo Doll: The Chucky Legacy
• Storyboard Comparisons
• Feature Commentary with Director Don Mancini, Puppeteer Tony Gardner and Star Fiona Dourif (Both Versions)
Blu-ray Widescreen Multi-Feature Limited Edition(61127365) : Disc 6 (Side A) (Feature 2): Curse of Chucky 
 Format:
Blu-ray
 UPC:
0-2519-21965-9-1
 Unit Type:
Multi-Feature
 Number of Media:
1
 Street Date:
10/8/2013
 PreOrder Date:
 Run Time (HH:MM):
1 Hour 37 Minutes
 Language:
English
 Disc Type:
 Packaging:
Digipak with Outer Box
 Layers:
 Audio:
English DTS-HD Master Audio 5.1
French Canadian DTS Digital Surround 5.1
Spanish DTS Digital Surround 5.1
 Subtitles:
English SDH
Spanish
French
 Edition:
Limited Edition
 Picture:
Widescreen
 Version:
-
 Color/B&W
COLOR
 Rating:
Not Rated
R
 CARA Rating:
-
 Bonus Features:
DVD Widescreen Multi-Feature Limited Edition(61127643) : Disc 1 (Side A): Child's Play 
 Format:
DVD
 UPC:
0-2519-21996-6-0
 Unit Type:
Multi-Feature
 Number of Media:
1
 Street Date:
10/8/2013
 PreOrder Date:
 Run Time (HH:MM):
1 Hour 27 Minutes
 Language:
English
 Disc Type:
DVD-5 (Single Sided)
 Packaging:
Digipak with Outer Box
 Layers:
Single
 Audio:
English Dolby Digital 5.1 Surround
 Subtitles:
English SDH
Spanish
 Edition:
Limited Edition
 Picture:
Anamorphic Widescreen
 Version:
-
 Color/B&W
COLOR
 Rating:
Not Rated
R
 CARA Rating:
-
 Bonus Features:
• Feature Commentray by Alex Vincent, Catherine Hicks and "Chucky" Designer Kevin Yagher
• Feature Commentary by Producer David Kischner and Screenwriter Dan Mancini
• Select Scene Chucky Commentaries
• Evil Comes in Small Packages: The Birth of Chucky
• Evil Comes in Small Packages: Creating the Horror
• Evil Comes in Small Packages: Unleashed
• Chucky: Building a Nightmare
• A Monster Convention
• Introducing Chucky: The Making of Child's Play
• Theatrical
• Trailers
DVD Widescreen Multi-Feature Limited Edition(61127643) : Disc 2 (Side A): Child's Play 2 
 Format:
DVD
 UPC:
0-2519-21996-6-0
 Unit Type:
Multi-Feature
 Number of Media:
1
 Street Date:
10/8/2013
 PreOrder Date:
 Run Time (HH:MM):
1 Hour 24 Minutes
 Language:
English
 Disc Type:
DVD-5 (Single Sided)
 Packaging:
Digipak with Outer Box
 Layers:
Single
 Audio:
English Dolby Digital 2.0 Stereo
French Dolby Digital 2.0 Stereo
 Subtitles:
English SDH
Spanish
 Edition:
Limited Edition
 Picture:
Anamorphic Widescreen
 Version:
-
 Color/B&W
COLOR
 Rating:
Not Rated
R
 CARA Rating:
-
 Bonus Features:
DVD Widescreen Multi-Feature Limited Edition(61127643) : Disc 3 (Side A): Child's Play 3 
 Format:
DVD
 UPC:
0-2519-21996-6-0
 Unit Type:
Multi-Feature
 Number of Media:
1
 Street Date:
10/8/2013
 PreOrder Date:
 Run Time (HH:MM):
1 Hour 30 Minutes
 Language:
English
 Disc Type:
DVD-5 (Single Sided)
 Packaging:
Digipak with Outer Box
 Layers:
Single
 Audio:
English Dolby Digital 2.0 Stereo
French Dolby Digital 2.0 Stereo
 Subtitles:
English SDH
French
Spanish
 Edition:
Limited Edition
 Picture:
Anamorphic Widescreen
 Version:
-
 Color/B&W
COLOR
 Rating:
Not Rated
R
 CARA Rating:
-
 Bonus Features:
DVD Widescreen Multi-Feature Limited Edition(61127643) : Disc 4 (Side A): Bride of Chucky 
 Format:
DVD
 UPC:
0-2519-21996-6-0
 Unit Type:
Multi-Feature
 Number of Media:
1
 Street Date:
10/8/2013
 PreOrder Date:
 Run Time (HH:MM):
1 Hour 29 Minutes
 Language:
English
 Disc Type:
DVD-5 (Single Sided)
 Packaging:
Digipak with Outer Box
 Layers:
Single
 Audio:
English Dolby Digital 5.1 Surround
French Dolby Digital 2.0 Stereo
 Subtitles:
English SDH
Spanish
 Edition:
Limited Edition
 Picture:
Anamorphic Widescreen
 Version:
-
 Color/B&W
COLOR
 Rating:
Not Rated
R
 CARA Rating:
-
 Bonus Features:
• Feature Commentary with Director Ronny Yu
• Feature Commentary with Jennifer Tilly, Brad Dourif and Don Mancini
• Spotlight on Location
• Jennifer's Diary
• The History of Chucky
DVD Widescreen Multi-Feature Limited Edition(61127643) : Disc 5 (Side A): Seed of Chucky 
 Format:
DVD
 UPC:
0-2519-21996-6-0
 Unit Type:
Multi-Feature
 Number of Media:
1
 Street Date:
10/8/2013
 PreOrder Date:
 Run Time (HH:MM):
1 Hour 28 Minutes
 Language:
English
 Disc Type:
DVD-9 (Single Sided)
 Packaging:
Digipak with Outer Box
 Layers:
Single
 Audio:
English Dolby Digital 5.1 Surround
English DTS Digital Surround 5.1
 Subtitles:
English SDH
French
Spanish
 Edition:
Limited Edition
 Picture:
Anamorphic Widescreen
 Version:
-
 Color/B&W
COLOR
 Rating:
Not Rated
R
 CARA Rating:
-
 Bonus Features:
• Chucky's Insider Facts on Demand
• Slashed Scene with Audio Commentary by Director Don Mancini and Actress Debbie Lee Carrington
• Heeeere's Chucky!
• Family Hell-iday Slideshow
• Audio Commentary with Writer-Director Don Mancini and Actress Jennifer Tilly
• Audio Commentary with Writer-Director Don Mancini and Puppet Master Tony Gardner
• Conceiving the Seed of Chucky
• Tilly on The Tonight Show
• Jennifer Tilly's Diary
• FuZion Up Close with the Seed of Chucky Stars
• Storyboard to Final Feature Comparison
• Theatrical
• Teaser
DVD Widescreen Multi-Feature Limited Edition(61127643) : Disc 6 (Side A): Curse of Chucky 
 Format:
DVD
 UPC:
0-2519-21996-6-0
 Unit Type:
Multi-Feature
 Number of Media:
1
 Street Date:
10/8/2013
 PreOrder Date:
 Run Time (HH:MM):
1 Hour 35 Minutes
 Language:
English
 Disc Type:
DVD-9 (Single Sided)
 Packaging:
Digipak with Outer Box
 Layers:
Single
 Audio:
English Dolby Digital 5.1 Surround
French Canadian Dolby Digital 5.1 Surround
Spanish Dolby Digital 5.1 Surround
 Subtitles:
English SDH
French
Spanish
 Edition:
Limited Edition
 Picture:
Anamorphic Widescreen
 Version:
-
 Color/B&W
COLOR
 Rating:
Not Rated
R
 CARA Rating:
-
 Bonus Features:
• Gag Reel
• Playing with Dolls: The Making of Curse of Chucky
• Feature Commentary with Director Don Mancini, Puppeteer Tony Gardner and Star Fiona Dourif (Both Versions)
DVD Widescreen Multi-Feature Limited Edition(61127643) : Disc 6 (Side A) (Feature 2): Curse of Chucky 
 Format:
DVD
 UPC:
0-2519-21996-6-0
 Unit Type:
Multi-Feature
 Number of Media:
1
 Street Date:
10/8/2013
 PreOrder Date:
 Run Time (HH:MM):
1 Hour 37 Minutes
 Language:
English
 Disc Type:
 Packaging:
Digipak with Outer Box
 Layers:
 Audio:
English Dolby Digital 5.1 Surround
French Canadian Dolby Digital 5.1 Surround
Spanish Dolby Digital 5.1 Surround
 Subtitles:
English SDH
French
Spanish
 Edition:
Limited Edition
 Picture:
Anamorphic Widescreen
 Version:
-
 Color/B&W
COLOR
 Rating:
Not Rated
R
 CARA Rating:
-
 Bonus Features:
[/toggle]
Like this article? Creep on these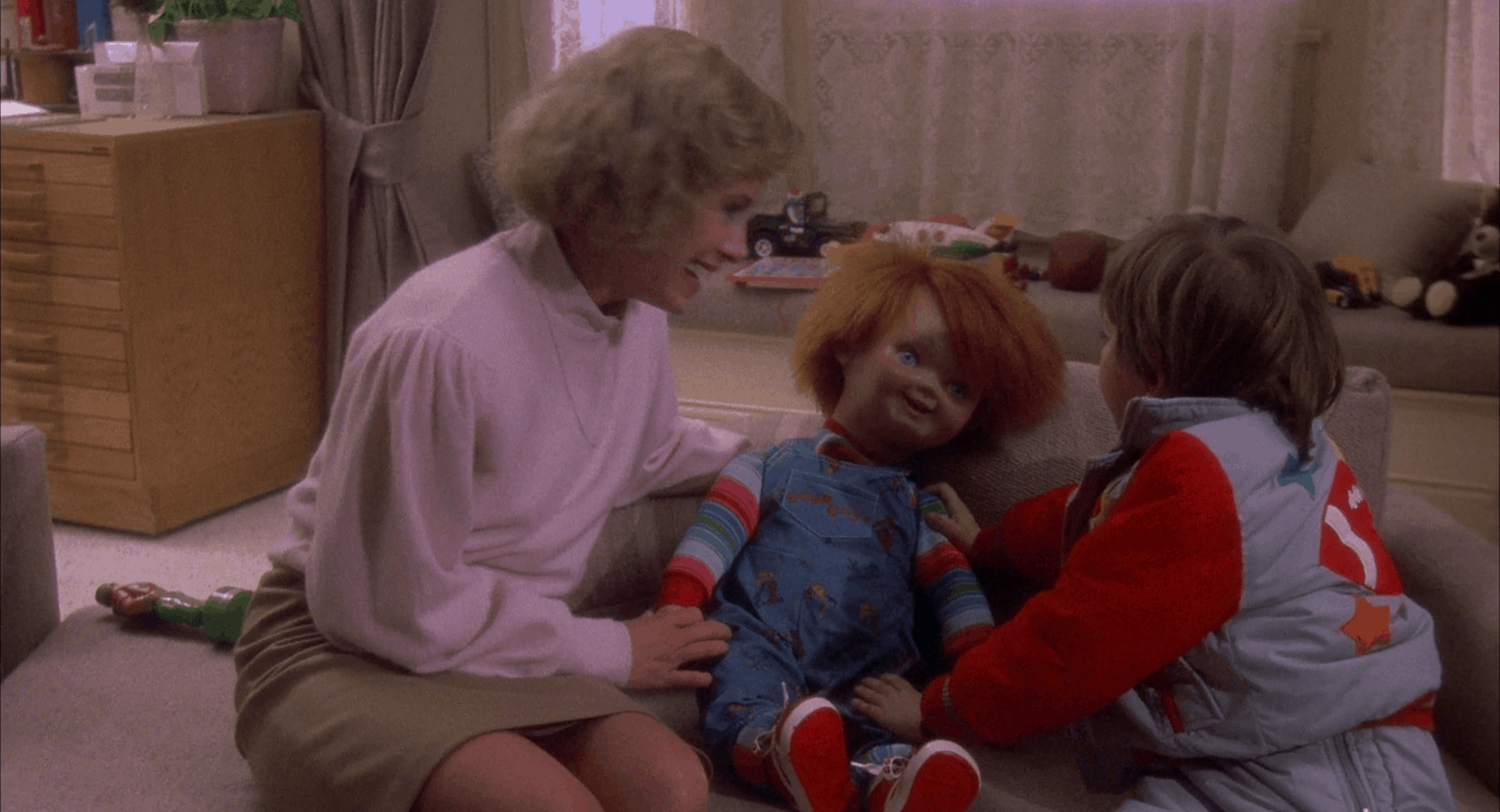 Chucky has become one of the icons of horror boogeymen that gets mentioned alongside of Michael Myers, Freddy Krueger, Leatherface and even Pinhead. Why are these characters the "icons of horror"? I'd like to think that all of these [...]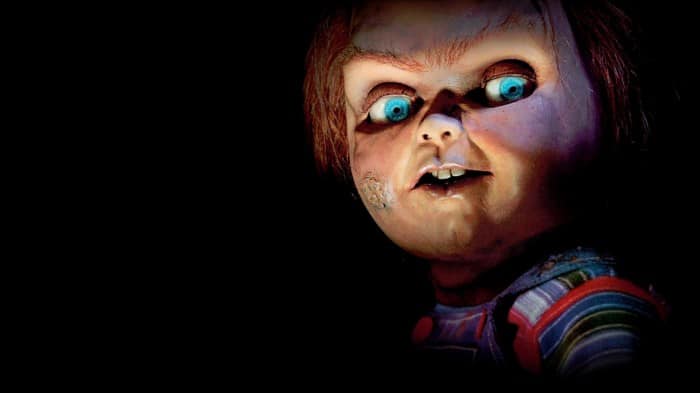 Forget Seed of Chucky and the obnoxious kid Glen.  Forget Bride of Chucky and Jennifer Tilly's voluptuous plastic figure. Curse of Chucky, which has officially now begun shooting in Canada, will not only bring the focus back on the possessed [...]