Another year has passed.  As with every year, 2012 gave us several memorable films along with a few that unfortunately can not be unseen.  While it's fun to look back and see what some of the stand-out films of the past year were, I like to also look ahead at all the possibilities that await us in 2013.  It's a packed year that sees a number of big directors releasing new films.  Narrowing down the list was hard, but below, I have composed my list of the "Top 20 Most Anticipated Films of 2013."  Along with my list, I have included several honorable mentions that didn't quite make the cut.  Let me know in the comments section what some of your most anticipated films are.  We, here at Destroy the Brain! want to know the films we should be covering for all of you and what you are eagerly waiting for!  Feel free to give me trouble for any of my picks as well.  I have thick skin; I can take it.
Was there really any other option? My favorite film of 2011 was Nicolas Winding Refn's Drive.  The Danish director took what should have been a boring and stereotypical story and construed it into a violent tale of redemption and love.  Ryan Gosling teams up with Refn once again as a gangster who goes to head to head with the ones responsible for his brother's death in a Thai boxing match.  Let the bloody brawl begin!
Y Tu Mama Tambien is a film I fell in love with in college due to it being one in a series of films that really sparked my interest in foreign cinema. Children of Men only increased my adoration for Alfonso Cuaron; the film also still stands as one of the best sc-fi films I have ever seen.  It's been a wild ride for Gravity as the film has been in production for years and was scheduled for release last year, but it looks like this might be the year I have long been waiting for.  Cuaron returns to the sci-fi genre to tell of a shuttle mission that goes very wrong resulting in the two sole passengers (George Clooney and Sandra Bullock) drifting out of control and alone in space.  Sounds intense to say the least.
If it wasn't for Guillermo Del Toro's name listed as the director I'm not sure this film would rank as high as it is.  The initial idea of robots constructed to fight giant monster intrigued me.  Then I saw the first trailer.  I'm not going to say that I was necessarily disappointed, but suffice to say, I certainly wasn't blown away like I expected to be.  Expectations are a killer sometimes.  The Mexican director's name might be thrown around as much as Oren Peli on other director's projects, but I will always look forward to the films he specifically directs.  Del Toro's unique blending of fantasy and horror makes him one of the most exciting directors working today.
It's impossible not to love Edgar Wright's previous team-ups with Nick Frost and Simon Pegg.  Sparks fly when this trio comes together and what emerges is comedic gold.  Say what you will about the stylized video-game/comic-book hybrid of Scott Pilgrim vs. The World, but I dare you to critique Shaun of the Dead and Hot Fuzz.  Their pseudo-trilogy comes to a close with The World's End but not without raising up a few glasses and having a toast to the good times.  Literally . . .  it follows the two actors and a handful of others on a bar-hopping adventure.  I will "cheers" to that.
Another sc-fi entry makes my list.  Since 2012 didn't offer too much in the form of the sci-fi genre, 2013 is here to make up for it and then some.  I previously spoke on this list of my favorite sci-fi films ever made.  Well, add 2009's District 9 to that list as well.  Newcomer Neil Blomkamp delivered a thoughtful and political metaphor that blended sci-fi elements with images that seemed not to far from the reality of South Africa following Apartheid.  Elysium finds the director delving deeper into the politics of upper and lower class systems which will no doubt spark even more cultural discourse.  I'm sure the media will have a blast with this one.
Is it going to be "the most terrifying film" we will ever experience as the poster states?  Maybe.  Is it my most anticipated horror film of the year?  Damn right it is!  I'm not the biggest cheerleader when it comes to remakes.  In fact, most remakes often end up on my list of worst films of the year.  When it comes to remakes, I always say to do something different. Go big or go home.  Sam Raimi heard my cries – I know he listens to me – and has delivered what looks like an even more grueling experience than his original cult classic.  I want this to be good, but more importantly, I want to see this film right now.
I never thought I would ever love the Star Trek universe more than Star Wars.  There are those that are Trekkies than there is everyone else.  I was always a bigger Star Wars nerd, but I'd be damned if Abrams didn't almost convince me otherwise while watching his 2009 reboot.  Starting from scratch and giving the cast of the Enterprise a fresh start might have been just the thing to convince critics like me who were dreading another stale entry in the Star Trek universe. Adding British actor Benedict Cumberbatch as the villain in the sequel has piqued my interest even more.  I cannot wait to board the Enterprise for another adventure – even if it's accompanied with constant lens flares.
Most people would agree that the character of Superman may not be the most interesting.  Being impervious to just about anything except for a glowing green rock doesn't make for the most exciting action scenes.  Following their massive success with Batman, Christopher Nolan and David S. Goyer have decided to lend a helping hand to get Superman off the ground and soaring.  The trailers for Man of Steel seem to hint at the same level of emotional depth and characterization that was first perfected with their Dark Knight Trilogy.
I love the character of Thor.  Unfortunately in the first film he wasn't really Thor for enough of the film.  I love the world of Asgard.  Unfortunately the first film spent more time on Earth than in the mythical land.  Are you starting to see a pattern here?  I flat out hated the majority of Marvel's Thor.  So why would I be excited about the sequel you may be asking?  I will give you four words: Game of Thrones director.  The HBO show has single-handedly changed the way we think of production values for a TV show and Alan Taylor has led more of these episodes than any other director.  Not to mention the show has better writing and action than half the films that come out each year.  That is why I'm excited for Thor: The Dark World.
There's so much that Stoker has going for it, from the inspired casting, to the lyrical and dream-like quality of the first trailer, and finally with the fact that it has a director with one of the most impressive filmographies working today.  Not a day goes by where I'm not reminded of why I'm excited for the English language debut for Park Chan-Wook.  So many of the haunting images from the trailer have been burned into my brain that I hope the rest of the film can match the exceptional trailer.  We will find out soon when Stoker debuts at Sundance.
The less said about the previous Wolverine solo film the better.  No one knows this more than director James Mangold.  In an act to get back to the roots of the character and to (in all likelihood) avoid any similarities to the previous entry, the director and writers have uprooted the character and placed him in Japan.  Comic fans are quick to point out the importance of this location in the history of the character.  But instead of doing another "origin" story they have opted for a film that takes place after X-Men: Last Stand but is still grounded in the character's past rather than his future.  It's a risky move that will hopefully deliver with all the action and dry remarks that we love so much about the character.
Some of you might be more excited about Wan's sequel to the effectively creepy 2011 film Insidious, which also happens to be coming out this year, but the one I'm most looking forward to is his stab at this horror film set in the 60's.  Previously to The Conjuring, the Saw creator has only tackled stories that take place in present day; though, Death Sentence sure feels like a late 80's throwback revenge flick.  Early buzz for the film has been so positive that studio executives have decided to move the film to a summer release date.  With a number of high-profile horror films coming out this year, The Conjuring will have quite a task scaring off the competition.
Is there enough gas in this engine to take another trip around Sin City?  We will have to find out soon enough.  Robert Rodriguez is pulling double duty this year with the release of this and Machete Kills.  I was a fan of both films when they came out, but I find myself revisiting Sin City more than the other Grindhouse inspired action flick.  A number of the original cast members will be returning along with a few new faces – namely Joseph Gordon Levitt.
Hype can often kill a film before it gets off running.  The Hunger Games was nothing short of hype prior to its release this past year.  Hungry teenage fans were waiting for the adaptation while film critics and other film fans wanted to see if the young adult series was going to be worth the anticipation.  I think I speak for most when I say that the film was a satisfying first entry that quickly vanquished any form of a looming Twilight cloud that some suspected might hover over the series.  Returning to District 12 and the Capitol should make for an exciting sequel.
How can you not love seeing Robert Downey Jr. on the screen after all the shit he went through in the 90's?  If Hugh Jackman as Wolverine is the most spot-on casting for a superhero role in a film, than a close second would be Downey as the billionaire weapons dealer turned hero Tony Stark.  Not many fans and critics were impressed with the sequel to the 2008 Blockbuster smash.  All that hate seems to have disappeared though following the wildly successful Avengers film.  Maybe Robert Downey Jr. is set for another comeback with this third film after so many beat up on him for the second film.  And just for the record: I loved the sequel and don't really understand the hate.
This may be slightly cheating since Andy and I both saw this at Fantastic Fest in 2011, but I'd be damned if that doesn't keep the film off this list.  If you thought Cabin in the Woods was a fun and exciting entry for horror fans, wait until you see You're Next!  Bloody deaths abound in a film that carefully plays with the audiences' expectations.  Any more said would reveal too much about this fresh take on the home invasion genre.  Plus, the masks the invaders wear, which seems to riff on The Wicker Man and the 1985 Aussie flick Fortress, will be your new favorite Halloween costume.
One of my top five favorite action films of all time is The Road Warrior (Mad Max 2).  It's absolutely insane what they get away with in that film.  Not to mention I have always been a fan of films that take place in a post-apocalyptic landscape.  George Miller returns to the directing chair with this fourth entry in the series.  Gone is Mel Gibson as the title character and in his place is current heavyweight Tom Hardy.  It may sound sacrilegious to say, but I'm completely fine with Hardy stepping into his boots, putting on the leather jacket, and racing around the desert.  I'm not necessarily expecting too much from this film other than seeing some elaborate car chases and fiery explosions.  But maybe . . . just maybe . . . this film may deliver more and be the first in a new trilogy of Max flicks.
Editor's Note: Mad Max: Fury Road isn't expected to be released until 2014.
A lot of criticism has been thrown at the trailer for this film and the fast, climbing hordes of CGI zombies.  I too was not impressed upon the initial viewing, but as a fan of Max Brooks' epic novel, I hope that the finished product acts more as the literary source material and less like an extended video-game cut scene. So, why is World War Z still on my top 20?  If you love zombies and the way Brooks' book approaches the popular subject as much as I do, than you might understand.
I typically hate remakes.  More importantly, I usually hate American remakes of fantastic foreign films.  I'm sorry.  Did I say fantastic? I meant to say CLASSIC.  Because that is what Park Chan-wook's film Oldboy is; it's a modern classic in cinema.  It's going to be hard to top a film that I love so very much.  All this considered, Spike Lee directing Josh Brolin in the remake intrigues me beyond belief.  Let that last thought bounce around in your brain for a moment.  The film may end up being incredible or total crap, but either way, I want to see this.
Spike Jonze is one of my favorite directors of all time.  No matter what his next project is, I will eagerly await to see what inspiring and thoughtful world he has constructed for me to climb into and get immersed in.  He's a world builder; a fabricator of dream like realities that seem so real to us and yet also feel like an alternative to our own reality.  I could spend hours writing about his films, but I would rather just re-watch them over and over again.  Her stars Joaquin Phoenix as a seemingly normal writer who begins to connect with the female voice of his new computer.  Having directed an endless amount of music videos, a handful of imaginative films, and one of the most emotional short films I have EVER seen (I'm Here),  Spike Jonze has my expectations very high for his next feature film rumored to be titled Her.
Honorable Mentions:
Carrie
The Counselor
Now You See Me
The Wolf of Wall Street
The Grandmasters
The Lone Ranger
Upstream Color
Spring Breakers
S-VHS
A Good Day To Die Hard
Snowpiercer
Mud
Oblivion
After Earth
Include your picks for 2013 in the comments below.  Let's hope 2013 is another great year for movies!
Like this article? Creep on these!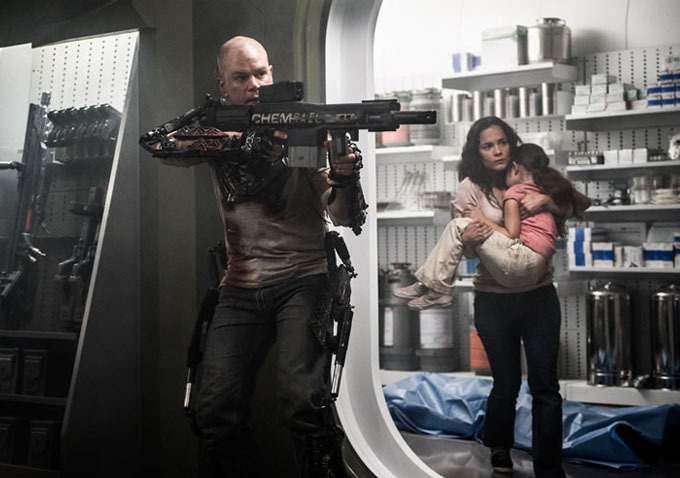 As if you needed more reasons to be jealous of people who have more money than you, the trailer for Elysium is here to show us that the [...]
Elysium – the new film from District 9 director Neill Blomkamp – wrapped shooting some time ago. The movie itself went into [...]