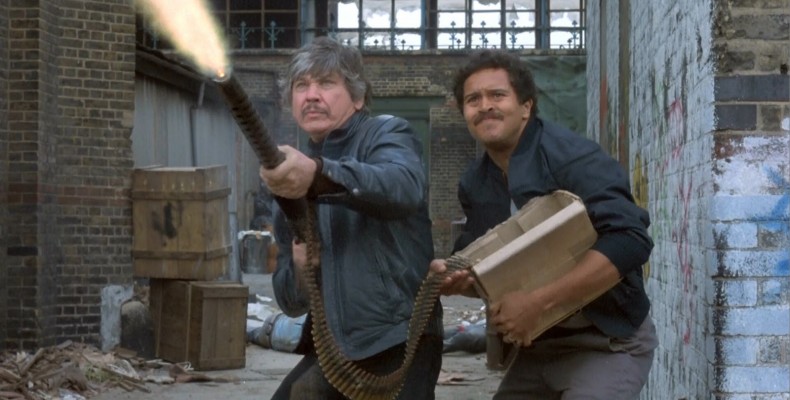 We are honestly proud to bring the Golan-Globus epic, the flagship of Cannon Films, Death Wish 3 for its 30th anniversary. I've been wanting to show this film for some time now and lord knows people have demanded it (namely Jeremy Jones, who contributes to DTB). If you haven't seen any or the previous Death Wish films, you'll be fine. They pretty much recap it in the beginning and let's face it, there wasn't really a heavy plot to Death Wish or Death Wish 2.
DEATH WISH 3
1985 / dir. Michael Winner / Digital
Charles Bronson brings out the heavy artillery in this gun-blazing, no-holds-barred thriller! Paul Kersey (Bronson) longs to leave his fighting days behind him. But when he arrives in New York to visit an old friend, he finds him gasping for breath in a pool of blood! Now the silent avenger must wage war once more on the city's punks, thugs and hoodlums.
---
Sign up on the LNGH Newsletter by filling out your email address below.
---
Be sure to RSVP for the day you are going. Admission is only $7 and we have our infamous pre-show for you that starts around 11:30pm!
Late Nite Grindhouse Presents
'DEATH WISH 3′
Friday, April 3rd, 2015
&
Saturday, April 4th, 2015
At The Hi-Pointe Theatre
Located at 1005 McCausland Avenue
Saint Louis, MO
Admission: $7
Pre-Show @ 11:30pm
Film @ Midnight

Like this article? Creep on these!

After last month's celebration of five years of Late Nite Grindhouse, we are proud to bring a film that has rarely been seen on [...]


Feburary's Late Nite Grindhouse show was originally going to be Duke Mitchell's Massacre Mafia Style. Unfortunately, there [...]