Full Review
The final film for the 2013 edition of Late Nite Grindhouse is a doozy. You might have been hearing about this film as of late but nothing can prepare you for what you will witness when you see The Visitor.
"The holiest of holy-fucking-shits and has the highest JDPM (Jaw Drops Per Minute) ratio of any film of its era, Italian ripoff or not." – The Cinefamily
Synopsis
In this unforgettable assault on reality–restored and presented uncut theatrically for the first time ever in the U.S.–legendary Hollywood director/actor John Huston (The Maltese Falcon; Treasure Of The Sierra Madre) stars as an intergalactic warrior who joins a cosmic Christ figure in battle against a demonic 8-year-old girl, and her pet hawk, while the fate of the universe hangs in the balance. Multi-dimensional warfare, pre-adolescent profanity and brutal avian attacks combine to transport the viewer to a state unlike anything they've experienced… somewhere between Hell, the darkest reaches of outer space, and Atlanta, GA . The Visitor fearlessly fuses elements of The Omen, Close Encounters Of The Third Kind, The Birds, Rosemary's Baby, The Fury and even Star Wars creating the most ambitious of all '70s psychedelic mindwarps . Its baffling all-star cast includes Shelley Winters (Night Of The Hunter), Glenn Ford (Superman), Lance Henriksen (Aliens), Franco Nero (Django) and Sam Peckinpah (director of The Wild Bunch).
Trailer
Please enter the url to a Vimeo video.
---
Sign up on the LNGH Newsletter by filling out your email address below!
---
Be sure to RSVP for the day you are going. Admission is only $7 and we have our infamous pre-show for you that starts around 11:30pm!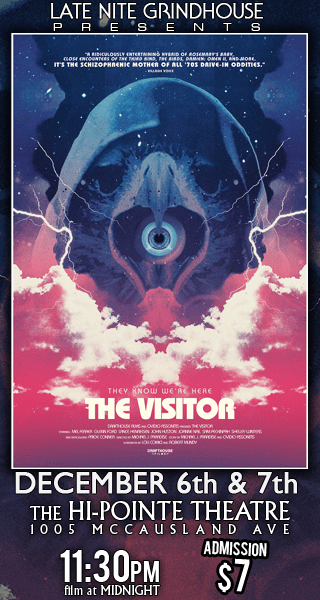 Late Nite Grindhouse Presents
'THE VISITOR'
Friday, December 6th, 2013
&
Saturday, December 7th, 2013
At The Hi-Pointe Theatre
Located at 1005 McCausland Avenue
Saint Louis, MO
Admission: $7
Pre-Show @ 11:30pm
Film @ Midnight
Like this article? Creep on these

"WOE BE UNTO HIM WHO OPENS ONE OF THE SEVEN GATEWAYS TO HELL, BECAUSE THROUGH THAT GATEWAY, EVIL WILL INVADE THE WORLD." THE GATES OF HELL (a.k.a. CITY OF THE LIVING DEAD) 1980 dir. Lucio Fulci 35mm Film Presentation Synopsis The Seven Gates [...]

You Better Watch Out! Synopsis When he was a boy, Harry idolized Santa Claus, but one Christmas Eve, he witnessed something horrifying that forever shattered his innocent understanding of Santa. Now an adult, Harry wants to embody the pure Santa Claus he [...]

Late Nite Grindhouse presents SHOCK WAVES at the Hi-Pointe Theatre in St. Louis, MO on November 14th & 15th!