We are celebrating our 2nd year of Late Nite Grindhouse and one thing that we have done is bring one new movie each year that we think either pays tribute to the aesthetic of the program. We have been lucky enough to work with Magnet Releasing on the previous shows and we are proud to announce that we will be hosting the St. Louis Premiere of Panos Cosmatos' cinematic headtrip, Beyond the Black Rainbow.
We previously reviewed the film at Fantastic Fest and it is just one of those movies that will stick with you. Here at Destroy the Brain, we wanted to make sure that our horror fans in St. Louis would have the opportunity to see this film on the big screen as intended.
Trailer:
Synopsis:
Set in the strange and oppressive emotional landscape of the year 1983, Beyond The Black Rainbow is a Reagan-era fever dream inspired by hazy childhood memories of midnight movies and Saturday morning cartoons.
From the producer of Machotaildrop, Rainbow is the outlandish feature film debut of writer and director Panos Cosmatos. Featuring a hypnotic analog synthesizer score by Jeremy Schmidt of Sinoia Caves and Black Mountain.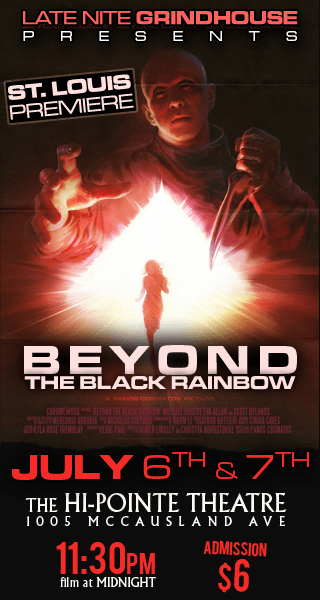 Late Nite Grindhouse Presents
THE ST. LOUIS PREMIERE OF
'Beyond the Black Rainbow'
Friday, July 6th, 2012
&
Saturday, July 7th, 2012
At The Hi-Pointe Theatre
Located at 1005 McCausland Avenue
Saint Louis, MO
Pre-Show @ 11:30pm
Film @ Midnight