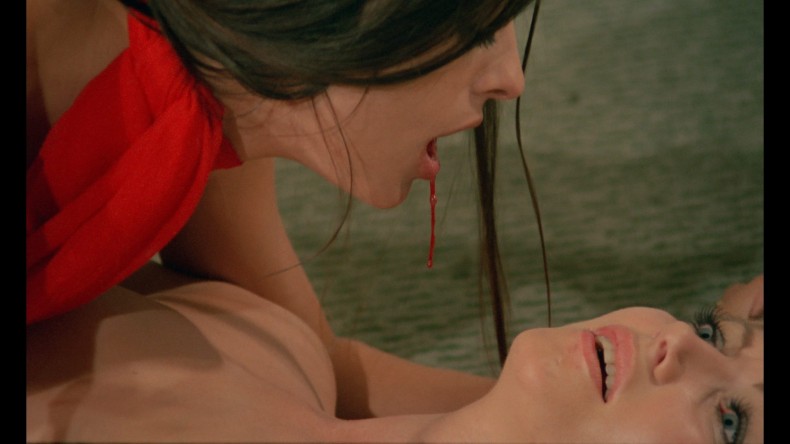 Feburary's Late Nite Grindhouse show was originally going to be Duke Mitchell's Massacre Mafia Style. Unfortunately, there was a scheduling conflict with the only 35mm print of that film. Therefore, we have had to book another title. Massacre Mafia Style will show at a later date but I feel extremely lucky to bring you guys the restored version of Jess Franco's Vampyros Lesbos. If that title sounds saucy, it's because it is. Nudity, sex and blood will be shown on the big screen at the Hi-Pointe next weekend and you should join us!
VAMPYROS LESBOS
1971 / dir. Jess Franco / Digital
From Jess Franco, the filmmaker The Vatican called "the most dangerous director in the world", comes the most celebrated movie of his legendary career: Stunning Soledad Miranda stars as a vixen vampire who lures women to a Mediterranean island to satisfy her insatiable lust for female flesh and blood.

It's a mind-bending odyssey of surreal erotica and '70s EuroHorror, featuring the psycho-sexadelic soundtrack that remains a global phenomenon. Ewa Strömberg (SHE KILLED IN ECSTASY), Dennis Price (VENUS IN FURS), Paul Muller (NIGHTMARE CASTLE) and Franco himself co-star in this landmark cult classic.

Experience Franco's masterpiece like you've never seen or heard it before!

---
Sign up on the LNGH Newsletter by filling out your email address below.
---
Be sure to RSVP for the day you are going. Admission is only $7 and we have our infamous pre-show for you that starts around 11:30pm!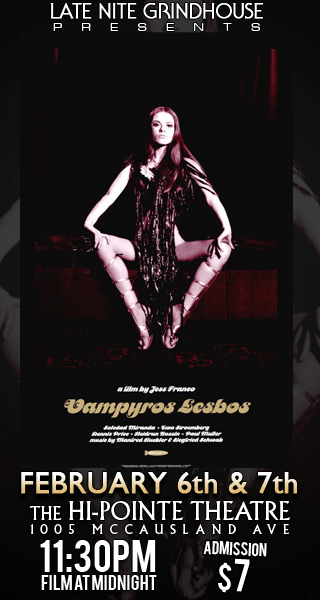 Late Nite Grindhouse Presents
'VAMPYROS LESBOS'
Friday, February 6th, 2015
&
Saturday, February 7th, 2015
At The Hi-Pointe Theatre
Located at 1005 McCausland Avenue
Saint Louis, MO
Admission: $7
Pre-Show @ 11:30pm
Film @ Midnight
Like this article? Creep on these

"WOE BE UNTO HIM WHO OPENS ONE OF THE SEVEN GATEWAYS TO HELL, BECAUSE THROUGH THAT GATEWAY, EVIL WILL INVADE THE WORLD." THE GATES OF HELL (a.k.a. CITY OF THE LIVING DEAD) 1980 dir. Lucio Fulci 35mm Film Presentation Synopsis The Seven Gates [...]

You Better Watch Out! Synopsis When he was a boy, Harry idolized Santa Claus, but one Christmas Eve, he witnessed something horrifying that forever shattered his innocent understanding of Santa. Now an adult, Harry wants to embody the pure Santa Claus he [...]

Late Nite Grindhouse presents SHOCK WAVES at the Hi-Pointe Theatre in St. Louis, MO on November 14th & 15th!