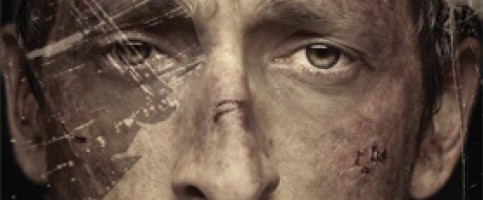 Is it harder to face the darkness that we may encounter lurking outside, or is it harder to face the darkness we may discover in ourselves?  This question has been posed many times in past films and will continue to be a subject of interest in the future.  Adrien Brody crashes into this exact dilemma in the new film Wrecked.  Here, he has to not only face the mountain lion that continues to stalk him, but also the truth regarding what he might have done that resulted in this terrifying situation.
In Wrecked, Adrien Brody awakes to find himself confused, bloody, and bruised in a car at the bottom of a blough.  With his leg pinned below the collapsed front dashboard and the door to the car jammed shut, Brody begins to quickly lose his physical and mental health.  When he finally does free himself, our mysterious protagonist comes across some clues that may help him piece together his memory, which he has lost due to the crash.  All the while, a vicious mountain lion is keeping a watchful and hungry eye.
Wrecked is a fascinating film that always keeps you guessing thanks to Brody's stellar performance.  Brody's physical and pain-driven performance is offset by the exquisite beauty of James Liston's cinematography.  The way the nature scenery is shot and edited will easily bring to mind the films of art house director Terrence Malick (The Thin Red Line, The New World, Days of Heaven).  Director Michael Greenspan surprisingly made the 91 min. feature entertaining even if the story doesn't go very far.  This is not to say that you don't feel the tediousness of the situation.  In the end, you do ultimately feel the need to look at your watch a couple of times after the first forty minutes.  Christopher Dodd's script does its best to create excitement for a full-length film.  Yet, you do get the feeling that this could have been trimmed back a bit if they did want to make it into a feature length film as they did instead of a nice and tight short.
Where Wrecked does fail is with its timing.  After the release of last year's exceptional Ryan Reynolds trapped thriller Buried, Wrecked feels a little late to the game.  The two films can't help but be compared to one another as they both feature a thrilling one-man show about a guy stuck in a shitty situation.  In the end, Buried clearly wins based on the suspense driven plot that propels the film.  Where Wrecked might be prettier to look at, Buried is much more creative and will be long remembered due to its gut punching ending.
Wrecked marks the return of Adrien Brody as an accomplished actor.  After the drivel of Predators and Giallo, it is great to see him return to quality acting that made him famous with The Pianist.  I look forward to what director Michael Greenspan has to offer in the future as Wrecked makes a statement with its distinct visual style.  Unfortunately, Wrecked suffers from being released at the wrong place at the wrong time; much like Brody's character in what will ultimately become a forgotten film.