Alfred Hitchcock's name is synonymous with the words thriller, suspense, and intrigue.  Films like Psycho, North by Northwest, Vertigo, and The Birds, are a few of the many famous titles that the director became world renowned for; even though he never won a single Academy Award during his lifetime for his direction.  Yet, just as there are so many films that are talked about by the British director, there are just as many films that are almost considered hidden treasures by him.  Rebecca is by no means a little known film by Hitch.  In fact, it went on to win the an Academy Award for Best Picture.  However, compared to the endless nods, jokes, and homages made over the years referencing Psycho, Strangers on a Train, and Rear Window, this 1940 film seems to be almost lost in comparison.  It's a film that I had always read about – since it is Hitchcock's first film he made in America – but never got around to discovering it.  Rebecca is the first of three Hitchcock films that were recently released by MGM on Blu-ray which also included Spellbound and Notorious.  In the coming week, we will be taking a look at all three of these releases.
THE MOVIE
Joan Fontaine plays a nameless assistant to a rich and snotty aristocrat when she accidentally stumbles upon Maxim de Winter (Laurence Olivier) standing dangerously close to a cliff overlooking the ocean.  Olivier plays a widower who is vacationing in Monte Carlo who becomes smitten by the innocent and simple woman.  His wealth and reputation clearly intimidates Fontaine whose only real talent in life is doing what is told of her while occasionally dabbling in art on the side.  Just within a few days of knowing one another, the two are married and off to his famous mansion, Manderlay.  It is here where the new Mrs. de Winter encounters the mysterious and cold Mrs. Danvers (Judith Anderson).  Not long after arriving to her new home, Fontaine discovers a sense that Rebecca – Maxim's deceased first wife – still seems to be on the mind of everyone whom she encountered in and around the house.
What works well in the film is the questions that arise surrounding the character's true motivations.  Never do you feel content with Mrs. Danvers or fully understand what is going on inside the head of Maxim de Winter.  The script reveals subtle clues over the course of the film until a reveal about 2/3 the way through the film.  Though the success of this well executed haunting mystery could be attributed to the original novel by Daphne Du Maurier, Hitchcock's direction, or the stunning black and white photography, I would say the weight of the film rests the most on the performances.  Thankfully the entire cast grabs you instantly and draws you into the film's web.  The audience is invited to the lavish riches of Manderlay through the eyes of the young Joan Fontaine.  In the first scene she shares with the esteemed gentleman over lunch, she is wide-eyed and practically stuttering when answering his questions and trying to sound eloquent.  As the film goes on we see this innocent and jovial spirit slowly drift out of her as she is forced to confront the previous life that was led by Rebecca . . . the life she now thinks she yearns for.  Judith Anderson gives the juiciest performance of the bunch.  Her composed and emotionless vocal delivery is almost as unsettling as her pale complexion and unblinking gaze.  It's not a stretch to say that she deserved the Oscar nomination that she regrettably didn't receive.
I have always been a fan of Alfred Hitchcock's later work.  And though I feel like he really is a true "Master of Suspense," I have always given much of this credit to his longtime editor of his later films: George Tomasini.  You can spend hours writing about his editing of such films as Rear Window (trust me  . . . I have in college) – the first of nine films he worked on with Hitch.  Given the fact that Rebecca comes off as a little long-winded, I can't help but think of what Tomasini would have done to change the overall tone of the film.  A lot of the "sweeping drama" feel that the film gives off is a result of producer David O. Selznick.  The producer previously won an Oscar just one year prior for the grandiose spectacle which is Gone With the Wind.  Rebecca might have had more of a tense atmosphere if the film was under the control of someone else.  Then again, we can't hate Selznick too much; he did bring Hitchcock from across the pond to the states.
THE PRESENTATION
Considering the film was released in 1940, it's pretty amazing that the Blu-ray's 1080p video quality looks as good as it does.  Since it is so old you will have to excuse a few very thin white lines every once in a while that are almost unrecognizable unless you're looking for them.  No black specks or imperfections were apparent as far as I saw.  There are a handful of scenes that involve the camera focusing in on waves crashing against the rocks.  This is the only time where the film comes across as a mess of indistinguishable grey hues.  Throughout the majority of the film fine attention is paid to show dark blacks, bright whites, and every shade of grey in between.  The figures and sets all have a richness that includes well defined edges.  Film purists will appreciate the precise level of grain presented here as well.  It is worth noting that the film is shown in its original 1.33:1 aspect ratio – a box format as opposed to being widescreen.  So be forewarned: there is nothing wrong with the setting on your HD TV.
The original mono soundtrack is presented in clear tonal quality.  No pops or hisses were heard during the duration of the film.  Compared to some of Hitchcock's later films, there is not a very complex sound design to the film.  Instead, the focus is on Franz Waxman's score which permeates every scene of the film.  It's a sweeping score that involves layers of string instruments.  All of which can be heard and deciphered perfectly.  I can only assume that this film and its audio was preserved slightly better considering it is a past Academy Award winner.  As a result we are treated to a great looking and sounding classic film.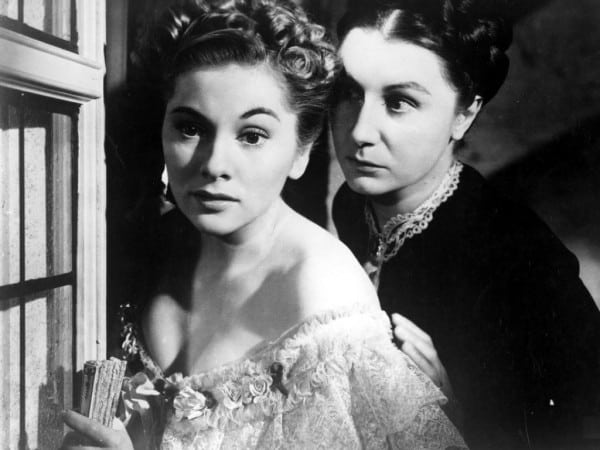 Image not representative of Blu-ray quality.
SPECIAL FEATURES
The Blu-ray pulls over the special features that were previously produced for the 2008 MGM DVD release.  This is not to say they aren't any good.  It is more served as a warning to those Hitchcock fans that were hoping for some new material to digest.  Those who didn't pick up the previous release will find many intriguing features on this disc that are well worth exploring even though they may not be as in-depth as you might assume.
Commentary with film critic Richard Schickel - To say that Schickel is a knowledgeable man is doing him a disservice.  The critic is practically an expert on the late director.  This commentary carries a wealth of anecdotes and stories that is a must-listen to for Hitchcock fans.

Isolated Music and Effects Track

The Making of Rebecca – This 28 minute discussion is comprised of a number of film historians and biographers exploring the relationship between Hitchcock and producer David O. Selznick.  Even though the majority of the time the talking heads intend to discuss ad naseum the hostility on set between the two, it's still a fairly entertaining watch that attempts to paint a portrait of artistic conflict.  Though it would've been nice to hear anecdotes from some people that were actually on set when the film was made.  The title "The Making of Rebecca" is slightly misleading in that fact.

The Gothic World of Daphne Du Maurier - During its 19 minute length, you hear from several people who discuss the intricacies of Du Maurier's novel Rebecca and several works of hers as well.  While it may seem short in length, this look into the author's world is very interesting and provides a nice intro for those unfamiliar with the author and her Gothic stories.

Screen Tests

Radio Plays

Hitchcock Audio Interviews – There are two audio only interviews featured here that prove once again how stern and abrasive the director was especially when it comes to his opinion of actors.  He's extremely direct in his answers and gives you an idea how he must have been on set.  One of the interviews featured here is with fellow director Francois Truffaut (The 400 Blows).

Theatrical Trailer

 
OVERALL
I'm more partial to Hitchcock's later films.  Like I previously stated, I attribute this to the masterful and precise editing by George Tomasini.  In what can surely be blamed by producer David O. Selznick -who just came off of a Best Picture win for the lofty Gone with the Wind – Rebecca seems slightly inflated and feels more like a sweeping drama than a tense mystery.  What is interesting about the film is that you do see many instances of Hitchcock pursuing ideas that will later become staples in his work.  The themes of obsession and identity will later be explored in Vertigo.  His love of the "every man" or "every woman" who suddenly is forced to deal with a devastating situation can be seen here.  You might find the experience of watching Rebecca for the first time quite a test of your patience.  Thankfully, when all is said and done, you do feel the urge to go back and try to uncover secrets you may have missed the first time around.  Rebecca is a chilling Gothic tale that should be more remembered for its impressive performances than being an early example of the "Master of Suspense."
Rebecca was recently released by MGM on Blu-ray.