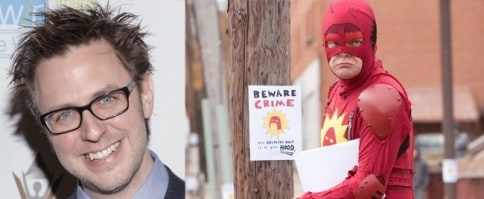 James Gunn may not be the first name that comes to mind when one thinks of writers and directors currently working in genre films.  Yet … I am sure that is okay by him.  The writer, director, and sometimes actor has purposefully worked under the Hollywood radar since he began his career working as the writer of the Troma classic Tromeo and Juliet.  Following his low-budget debut, Gunn found some success writing scripts for the Scooby-Doo films and the Dawn of the Deadre-make.  Even though critics praised his 50′s horror/sc-fi homage Slither, the 2006 film failed to connect with audiences (although it has since found a following).  What seems as a result of the commercial disappointment, the director for awhile stuck to releasing his own independent short films.  Now, the St. Louis native seems to be finally making a comeback with his violent "superhero" send-up Super.
I put "superhero" in quotes, because Rainn Wilson's character, The Red Bolt, comes off as more of a vigilante than your typical hero in tights. Super is a frequently funny story that is more of a dark journey of a man seeking vengeance on the crime-ridden world that took his drug-addicted wife from him.  The resulting film feels more like Taxi Driver than Superman.  Super will occasionally make you laugh but will just as quickly surprise you with its strikingly realistic approach to violence.  This is not Janes Gunn's first stab at the superhero genre as he wrote the script to the extremely funny 2000 comedy The Specials.  Yet, Super is an entirely different beast.  A pipe-wrench wielding beast that might surprise you.
This Friday, April 15, James Gunn will introduce the 7:00 showing of Super at The Tivoli Theatre (6350 Delmar Blvd.).  A Q&A will follow the screening.  Gunn will also introduce the 9:30 showing as well.
Below are the cities that you will be also able to catch Super.  For more info on the director and his futur projects, visit his blog by clicking here.
4/15/11
NEW YORK, NY – CINEMA VILLAGE
SAN FRANCISCO, CA – LUMIERE –
ST. PETERSBURG, FL – BEACH THEATRE – 6 Days Only!
LAGUNA NIGUEL, CA – RANCHO NIGUEL
DETROIT, MI – LANDMARK MAIN ART  
MINNEAPOLIS, MN – LANDMARK LAGOON
PHILADELPHIA, PA – LANDMARK RITZ AT THE BOURSE  
PITTSBURGH, PA – HARRIS THEATRE
FORT LAUDERDALE, FL – GATEWAY
MIAMI, FL – COSFORD – 3 Days Only (Closes 4/17)
BOCA RATON, FL – LIVING ROOM  
NASHVILLE, TN – BELCOURT
 PORTLAND, OR – CINEMA 21
SEATTLE, WA – LANDMARK VARSITY
CHALMETTE, LA – CHALMETTE
TACOMA, WA – GRAND
BETHLEHEM, PA – ARTSQUEST
SAN DIEGO, CA – HILLCREST
KEY WEST, FL – TROPIC THEATRE
4/22/11
SAN ANTONIO, TX – SANTIKOS BIJOU
BUFFALO, NY – AMHERST
CLEVELAND, OH – CAPITAL
ANN ARBOR, MI – STATE
BALTIMORE, MD – CHARLES THEATER
ATLANTA, GA – LANDMARK MIDTOWN ART
DALLAS, TX – MAGNOLIA
CLAREMONT, CA – LAMMLE CLAREMONT
DENVER, CO – LANDMARK MAYAN
DAYTONA BEACH, FL – CINEMATIQUE OF DAYTONA
GREENSBORO, NC – CAROUSEL
SANTA ROSA, CA – SUMMERFIELD
ORLANDO, FL – ENZIAN
WINTSTON-SALEM, NC – APERTURE
DES MOINES, IA – FLEUR
INDIANAPOLIS, IN – LANDMARK KEYSTONE ART
KANSAS CITY, MO – TIVOLI AT THE MANOR SQUARE
PORTLAND, ME – NICKELODEON
CHAPEL HILL, NC – CHELSEA
CHARLOTTE, NC – EPICENTER
MONTEREY, CA – OSIO
SANTA CRUZ, CA – NICKELODEON
PALM DESERT, CA – CINEMAS PALM D'OR
SALT LAKE CITY, UT – BALCONY TOWER
SCOTTSDALE, AZ – SCOTTSDALE PAVILLION
TUCSON, AZ – LOFT CINEMA
SHREVEPORT, LA – ROBINSON FILM CENTER
EUGENE, OR – BIJOU
CARY, NC – GALAXY
DAYTONA BEACH, FL – CINEMATIQUE OF DAYTONA
PITTSBURGH, PA – HARRIS THEATER
ASHEVILLE, NC – CAROLINA
RALEIGH, NC – RALEIGH GRAND
4/28/11
ALBUQUERQUE, NM – GUILD THEATRE
4/29/11
COLUMBUS, OH – GATEWAY
GRAND RAPIDS, MI – UICA
LINCOLN, NE – MARY ROSS FILM CENTER
LITTLE ROCK, AR – MARKET STREET
MILWAUKEE, WI – LANDMARK ORIENTAL
NORTHFIELD, NJ – TRI-STATE TILTON
ITHACA, NY – CINEMAPOLIS
ASHEVILLE, NC – CAROLINA
CHARLESTON, SC – CITADEL
COLUMBIA, SC – NICKELODEON
EL PASO, TX – CINEMA SERVICE PREMIER
BOISE, ID – THE FLICKS
CORVALLIS, OR – DARKSIDE
HONOLULU, HI – CITY CINEMA KAHALA
SACRAMENTO, CA – CREST
SAN LUIS OBISPO, CA – THE PALM
SANTA FE, NM – CCA
HUNTER, NY – MOUNTAIN CINEMA
WILMINGTON, DE – THEATRE N
AUSTIN, TX – ALAMO RITZ
COLUMBIA, MO – RAGTAG CINEMA
AUSTIN, TX – ALAMO SOUTH LAMAR
5/06/11
TULSA, OK – CIRCLE CINEMA

LOUISVILLE, KY – VILLAGE
MUSKEGON, MI – HARBOR
BRYAN, TX – PREMIER 16 CINEMA
SPRINGFIELD, MO – MOXIE
FORT COLLINS, CO – LYRIC
SALEM, OR – SALEM
BURLINGTON, VT – MERRILL'S ROXY
MOBILE, AL – CRESCENT
GREELEY, CO – KRESS
5/13/11
OLYMPIA, WA – CAPITOL - One week only!
6/06/11
ATLANTA, GA – CINEFEST
6/08/11
JACKSON, WY – CENTER FOR THE ARTS – One Day Only!