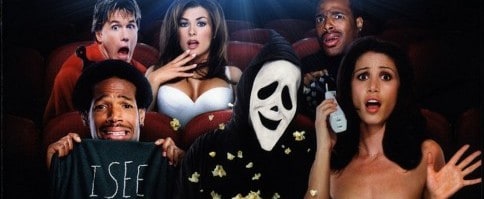 Yes, you heard it right.  Scary Movie 5 is on its way and looking to add a few cast members from previous films to keep the popular franchise in motion. Names like Anthony Anderson, Regina King, and Micheal Hart are all too familiar to Movie fans. Started by the Wayans Bros, Scary Movie was a hit from the start. The second is my favorite and since then it took a huge downturn. I will say I watched the third and fourth films and there were small things I enjoyed about them but not too much. Read more after the break on whats going on with Scary Movie 5
Back in June it was announced that a fifth movie was on the way and even a release date of April 12, 2012 was planned. Dimension still looks to hit that mark and have hired screen writers Stephen Leff, John Aboud, and Micheal Colton (The Comebacks) to pen the film. Offers have been made to the before mentioned cast but no word on what direction they will take on the film. The franchise star Anna Faris is not mentioned at all in the negotiations as we believe she has moved on from her role.
One of the great things about Movie is it held true to spoof classics like Airplane, Naked Gun, etc. Other films like Superhero Movie, Date Movie, and others all try cheap gimmicks to keep audiences interested but never did well in the box office. That's one thing the Scary Movie franchise was always able to do. They didn't just make fun of the movies in the genre, they made fun of our culture as a whole. With all the reality programming, celebrity drama, and downturn of the economy, I'm sure they will come up with something to keep fans entertained. I for one would love to see Faris return to the franchise, but with the right screenplay and at least a return of one of the popular actors they should do just fine.