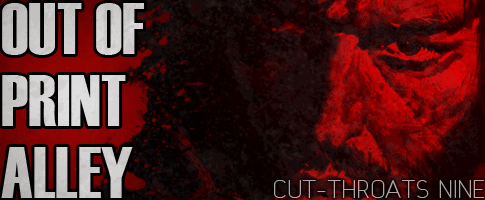 Last year, your favorite production company and mine, Platinum Dunes, released the much anticipated horror film A Nightmare on Elm Street.  Audiences were subjected to truly one of the worst remakes/horror films in recent memory.   The remake trend has not only left a sour taste in horror fan's mouths but has also begun to lose studio support (that could possibly be due to them already going through most of the popular franchises).  However, there is some silver lining in this recent string of remakes.  While many of the major studios have been behind big name remakes of classics that need not be remade, there are a slew of lesser known genre filmmakers remaking films whose original products are flawed.  While both original films are good and were popular among horror fans, these filmmakers promise to take the original concepts and put their own spin on it.  One film being given such an update, is the 1972 long lost euro western Cut-Throats Nine.  In late 2009, Rodrigo Gudino, head honcho of Rue Morgue Cinema/Magazine, announced that this would be his first feature length film.  Since then he not only garnered the financial backing of Guillermo Del Toro's production company but also secured Harvey Keitel as one of the leading actors in this film.  The original film is long out of print and is much deserving of a slot in Out of Print Alley.
This western sees a wagon load of convicts being transported from a prison camp mine, to a fort 400 miles away.  The convoy is soon stopped by a group of bandits who upon not finding any gold, kill many of the soldiers and destroy the wagon.  The only soldier left is Sergeant Brown, who accompanied by his daughter, must deliver the chained prisoners on foot.  The men being transported are murderers, thieves, and rapists who will stop at nothing to get the Sergeant.  One of the men being transported murdered Brown's wife but Brown does not know which one did it.  What results is a gore filled western where both prisoner and Sergeant must face each others wrath, all the while facing the brutal elements and a group of murderous bandits.  There are many revelations in the film and it ends with an explosive finale.
Upon watching this, I couldn't believe how great of a concept the film is and that it is not better known.  The basic plot of the film works well and it kept me guessing the entire time.  The pacing of the film is overall good but the biggest thing that this film lacked was character development.  Throughout Cut-Throats Nine, there would be flashbacks into the characters' previous lives/crimes and even showed the murder of Sergeant Brown's wife.  However, I think this aspect of the film was underutilized and there could have been more background info for the Sergeant and the criminals.  Also, the implied romance between Brown's daughter and one of the convicts should have been fleshed out more, this would have made some of the revelations that much more startling.
Gorehounds will be thrilled at this film as it features throat slitting, characters being disemboweled, appendages being cut off, people burned alive, and even someone being hung by a hook.  The violence, while sounding over the top, works for the brutality of the film and never really take the viewer out of the movie.  The effects are amazing and look real, especially for the year this was made.  I love westerns and the snow covered landscape made for some great visuals.
As an exploitation western, this film is great in concept but only good in execution.  The original film itself deserves to be rediscovered and released, but the story is one that could be retold and in a worthy filmmaker's hands, could be made into a great film.  I think Mr. Gudino is up to the task and as his magazine has proven time and time again, Rue Morgue will give an uncompromising product.  While there are some DVDs floating around of this film, I have found those hard to find and I'm not sure of their authenticity as an official release.  The VHS can be found on EBAY and Amazon.com for somewhat reasonable prices (I paid $10 dollars for an old video store copy on eBay).  I highly recommend checking this out, especially ahead of the soon to be made remake.  Next month we will be looking at an unreleased film in a somewhat popular exploitation franchise.  Put on your snow boots and coats because were taking a trip to visit Ilsa, Tigress of Siberia.