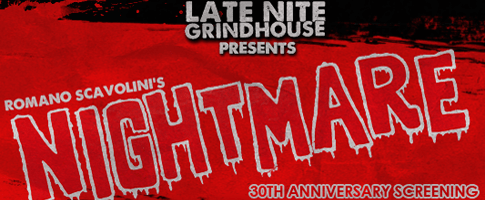 Hey Fiends!  For those of you that don't know, Destroy the Brain hosts a monthly midnight program called LATE NITE GRINDHOUSE.  Next month, we are showing a very obscure horror flick.  It is a film that has a demand among the underground and people have been waiting almost half a decade or more for the official DVD to be released.  In celebration of the DVD release, which is due out on July 26th from Code Red DVD, we will be showing a rare 35mm print of Romano Scavolini's NIGHTMARE (aka NIGHTMARES IN A DAMAGED BRAIN).  We are so excited to show this flick that we created a poster for the event which you can see beyond the break.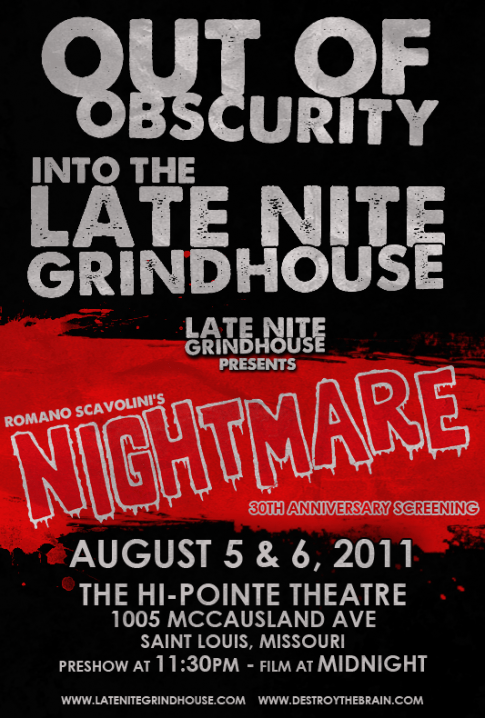 Synopsis for NIGHTMARE:
Escaped mental patient George (Baird Stafford) repeatedly suffers a graphic nightmare that depicts the axe murders of a couple making love. In Florida, a prowler stalks a babysitter – when she is attacked the youngest child she is looking after just sits and laughs… George begins a journey of brutal murder, death and destruction until the final moment of truth when his nightmares come to frightening life! aka Nightmare in a Damaged Brain and Blood Splash.
If you are in the St. Louis area, you are going to want to come check this screening out!