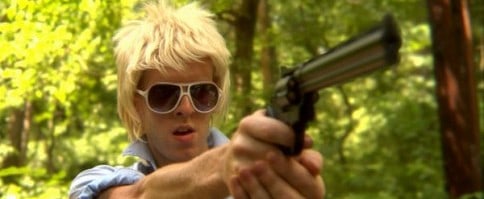 You might remember back on Christmas morning, Andy told us about a vulgar slice of comedic indie horror called The Taint.  You can watch the trailer for this glorious film in that article.  Now keep in mind, The Taint centers on over-the-top, silly, gross, and outrageous humor.  When you have a running shtick that includes the protagonist consistently putting on a different pair of sunglasses in almost every scene, you can't help but laugh at how much fun these filmmakers are having.  Now you can check out The Taint on DVD, digital download, and VHS !!! Yes, a film that clearly is inspired by while also poking fun at the gory and sometimes non-sensical films of the 80′s VHS era.  Find out more info about this film beyond the break.
The Taint is a weird combination of Wet Hot American Summer and Street Trash.  Over-the-top gore and hilariously stupid gags all rolled into a plot that surrounds contaminated water that turns people into raging monsters.  What is most impressive, is that this is the first full-length feature by directors Drew Bolduc and Dan Nelson.  Though this certainly is not going to break new grounds in the technical department (this is a low, low-budget horror/comedy), The Taint is a fun film to unwind with and watch with friends on a Friday night.  So, if you like your horror films featuring monster penises, guts, bad wigs, and lots of boobs … check out this bizarre little film.
If you are interested in The Taint, head over to the movie's store by clicking here.