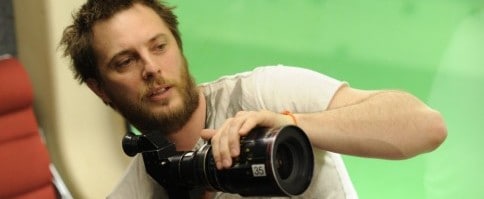 In a world filled with rehashed ideas and unnecessary sequels, there are few original film auteurs left in Hollywood.  There aren't many directors still out there that clearly have let their distinct voice be apparent in their films.  It goes without saying, but filmmakers like Scorsese, Hitchcock, Fellini, and Godard can all be seen as example of directors who exhibited a specifc style which was all their own.  Though there are some filmmakers working today that can be seen  as sharing this characteristic (Paul Thomas Anderson immediately comes to mind), it seems that most directors these days are simply looking for a paycheck from the studios and thus will take on any project that sounds remotely interesting. Duncan Jones is not one of those guys.  Though the writer and director has only two films to his name, he has already made a name for himself with his unique blend of real world aesthetics and science fiction themes.  Moon and Source Code are the first two films in what Jones has recently admitted will include a third that fits in this same sci-fi universe.  Keep reading to find out more.
Following the release of Source Code, Jones had hinted at making a third film that would be "an homage to Blade Runner."  We then heard a little about a project entitled Mute that revolved around a mute bartender who searches for his missing girlfriend.  Now, in this new interview, Jones hints at what seems to be the Blade Runner-esque film.
In a recent interview with DIY, Jones revealed a couple of details regarding his next project.
"I can say that it is a science fiction film, and potentially… I'll take a break from sci-fi after this film. Moon was done at a tiny budget and we really squeezed everything we could out of it. Source Code was a chance to work on a bigger budget with name actors, but on a project that wasn't my own. Hopefully, this third film will be the kind of sci-fi I want to make, on a budget where I can afford to do it as I see it in my head. After that, I'll change genres."
He goes on describing the effects for the film.
"My producer and I traveled to New Zealand to visit the guys at WETA. We had an amazing experience. They're the best in the world, and when you get the chance to meet them, and see how they do it, it's not just a company – they have a community of people who love film, and are amazing at it. I feel I would be privileged to get the chance to work with WETA so hopefully that will happen."



Finally, the real piece of interesting news come from the website Love Film. Here, they were able to get some info that speciifcally states that this new film will connect to the critically acclaimed film Moon.
"It's another science fiction film, which is hopefully going to be a summation of what I would love to make. Hopefully this next film is going to be the best of both worlds, it's going to be my own idea, really throwing myself and my own passions into it, but having the budget to be able to pull (it) off. It's sci-fi set, and it's a little bit future set, connected to the universe that is described in 'Moon' but a completely independent story. And in the same way, it's also connected to this script I've been working on for a long time – 'Mute' – independently and parallel as a graphic novel."
So . . . there you have it.  That's a lot of information to take in, but will hopefully appease fans who are anxiously awaiting what this talented director is up to next.  As more info becomes available, we will let you know.