What some people consider one of the highlights of 2011 is finally heading to DVD/Blu-ray.  I'm clearly in the minority when it comes to Brad Bird's action-packed installment in the popular Mission: Impossible series. Mission: Impossible – Ghost Protocol isn't necessarily a bad film (you can read my FULL REVIEW HERE), it just isn't as fun or entertaining as you would think a 133 minute film full of gadgets, explosions, and car chases should be.  How it landed on some people's 'Ton Ten of 2011′ lists is beyond me.  Though I will admit that the opening sequence and Ethan's scaling of a high-rise hotel building in Dubai, the centerpiece of the film, are worth at least a rental.  So when will you be able to see these stunning sequences in HD?  Ethan Hunt's forth mission will be arriving on DVD and Blu-ray on April 17.
Paramount Home Entertainment has announced DVD ($19.99), Blu-ray/DVD Combo ($29.99), and 3-disc Blu-ray/DVD Combo ($34.99) releases of Mission: Impossible Ghost Protocol for April 17th. The only extras on the DVD release will be 2 featurettes ("The Sandstorm", "Props"), and deleted scenes with optional commentary by director Brad Bird. The Blu-ray/DVD Combo release will include that, plus 2 additional featurettes ("Heating Up In Dubai", "Vancouver Fisticuffs"). The 3-disc Blu-ray/DVD Combo will include all of the above, plus 9 more featurettes ("The Russian Prison", "Shooting in IMAX®", "Art Department", "A Roll of Film", "Life Masks", "Stepping into the Storm", "Dubai Car Crash", "Lens on the Burj", "Composer"), and trailers.
Check out the synopsis of the film as well as the cover art below.
Blamed for the terrorist bombing of the Kremlin, IMF operative Ethan Hunt is disavowed along with the rest of the agency when the President initiates "Ghost Protocol." Left without any resources or backup, Ethan must find a way to clear his agency's name and prevent another attack. To complicate matters further, Ethan is forced to embark on this mission with a team of fellow IMF fugitives whose personal motives he does not fully know. Tom Cruise returns in the starring role as Ethan Hunt and is joined by an international cast that includes Jeremy Renner, Simon Pegg, Paula Patton, Michael Nyqvist, Vladimir Mashkov, Josh Holloway, Anil Kapoor and Lea Seydoux.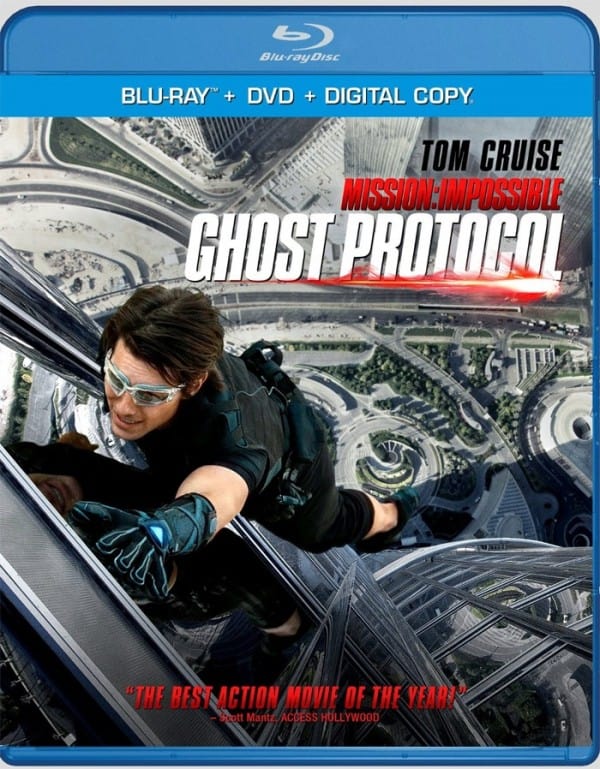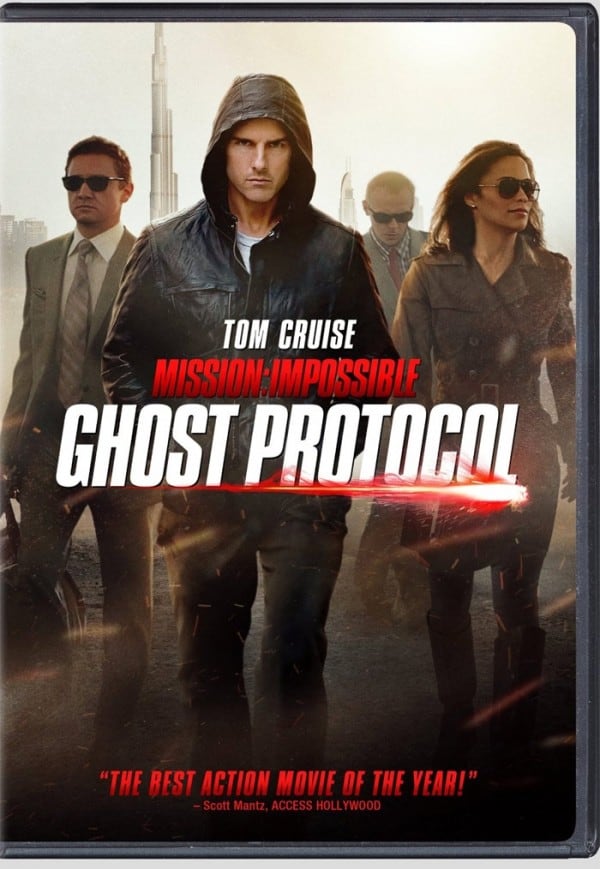 Source: DVDActive