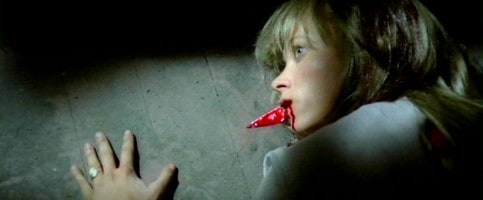 The Italian horror genre has seen a rise in fame in recent years.  Thanks to the high praise by genre director's Eli Roth, Quentin Tarantino, and Robert Rodriguez, names like Umberto Lenzi, Sergio Martino, and Dario Argento have become household names for horror fans.  Many cinephiles for years have already regarded Mario Bava as the king of Italian horror.  Yet, it has only been more recently that you have seen fans sport t-shirts with the iconic phrase: FULCI LIVES!  This "Godfather of Gore" passed away in 1996, two years prior to when Tarantino re-released in theaters one of the director's most recognizable films, The Beyond.  Since that re-release, the Italian director saw new-found fame with a crop of young and eager horror fans. With the help of Blue Underground and other companies, most of Fulci's filmography has seen the light of day.  Now fans of the splatter maestro can cheer with bloody glee, as news has just arrived announcing the upcoming Blu-ray of Lucio Fulci's House By the Cemetery.
Though the film may not have a zombie fighting a shark (Zombi 2) or a woman puking out her intestines (City of the Living Dead) or even a squirm inducing tarantula attack on someone's face (The Beyond), House By the Cemetery has everything a Fulci film is known for.  It has a bizarre nonsensical plot, creepy euro music, and a healthy bit of the red stuff! What more can you ask for?
Blue Underground is releasing the Fulci classic on Blu-ray September 27th.  Though no special features have been announced as of yet, I would bet money on the fact that the recent Cemetery cast panel at this past spring's Horrorhound Convention will be on the disc and much more.  Blue Underground always puts out a quality product and everything I have heard about their recent Blu-rays have been nothing but positive.  You can check out the cover art below along with the theatrical trailer for the 1981 film. House By the Cemetery follows a young family who moves into a new house that is occupied by the monstrous Dr. Freudstein in the basement.  Let's just say, he isn't going to bring them a jello mold when they move in.
Fulci may not have been as sophisticated of a director as Mario Bava, but the man certainly knew how to please his fans.  With a knack for the blood and ultra-violence, the "Godfather of Gore" is now a worldwide icon with a devoted fan-base ready to cheer, "FULCI LIVES!"