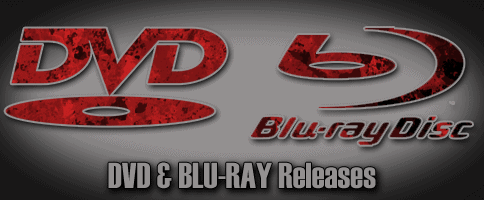 This week's DVD and Blu-Ray Releases include a couple of films from the After Dark Horrorfest as well as two of Ron Howard's earlier films and a Blu-Ray edition of Solaris.  Check beyond the break for the full list.
All Descriptions of the following titles are provided by Amazon.com unless otherwise noted. If you plan on buying a flick from this list, please click on the links provided or click on the cover as it helps us pay the bills around here. Also, unlike most sites, we provide the Netflix widget which we think is pretty convenient to add these films to your queue. If you don't have Netflix, feel free to click on "Free Trial" and try it out!
Format: DVD
———————–
In a forgotten region of the desert, an unspeakable evil exists. By no choice of his own, John Croix will come face-to-face with the most terrifying creatures of the dark night. Equipped with the power of the werewolf and newfound faith his mission is to save mankind from certain doom.
Death Hunter: Werewolves vs. Vampires on Netflix
————————————–
Format: DVD
———————–
Emily and Nate Weaver leave the city for the rural comfort of Nate's ancestral home in the country. Once there, Emily is plagued by horrifying visions and haunted by the ghosts inhabiting their isolated new home. When Nate's behavior undergoes a strange and fearful metamorphosis, Emily fears she might be the latest target in a murderous tradition.
————————————–
Format: DVD
—————–
Fighting Mad: An Arkansas farmer (Academy Award nominee Peter Fonda, Easy Rider) wages a one-man war against corrupt land developers who want to evict him and his neighbors from their farms to create real estate developments and to conduct illegal strip mining. Also starring Lynn Lowry (They Came From Within) and Scott Glenn (The Silence Of The Lambs, Silverado). Written and directed by Academy Award winning director Jonathan Demme (The Silence Of The Lambs, Philadelphia, Stop Making Sense).
Not Available on Netflix
Moving Violation: While passing through the small town of Rockfield, drifter Eddie Moore (Stephen McHattie, Watchmen) gets harassed by Sheriff Leroy Rankin (Lonny Chapman) and his deputy. When Eddie meets local waitress Cam Johnson (Kay Lenz, White Line Fever) in town, that's when trouble begins for both. They witness something they weren't supposed to see and are set up by the sheriff for a murder they didn't commit. Action ensues with high-speed car chases and explosive shootouts. Also starring Eddie Albert, Will Geer and Dick Miller.
————————————–
Format: DVD
———————-
It's graduation weekend, and Sandy Channing, the popular class president of her small-town high school, should be enjoying the time of her life. But when her friends start disappearing, Sandy discovers they have unwittingly awakened the vengeful spirit of a girl they wronged long ago. Fighting for her sanity and her life, Sandy must unlock a dark secret from her own past before it's too late.
————————————–
Format: DVD
———————-
Will is a misfit who can't catch a break: he's terrorized by his psychotic father at home and taunted by his peers at school. His only solace comes from three classmates who face similar abuse. Without guidance or a sense of purpose, the four friends spend their days getting high and commiserating until they reach a breaking point. With nothing to lose and no escape from the onslaught of ridicule, they decide to unleash their mean streaks in a whirlwind of pranks, partying and – ultimately – destruction. A delirious black comedy, Mad World is a nightmarish, drugged-out vision of growing up in a conservative America. Cory Cataldo's directorial debut takes audiences to shocking depths in order to make a bold statement about living in a society where those with the least amount of sanity seem to hold the most power.
————————————–
Format: DVD
——————–
Eat My Dust
Way back in 1976, actor-director Ron Howard made a bargain withshlockmeister producer-director Roger Corman. It went something like this: Corman agreed to produce Howard's feature directorial debut, the 1977 Grand Theft Auto, and Howard agreed to star in another of Corman's pieces of drive-in fodder, the quirky Eat My Dust! Written and directed by Charles B. Griffith (a favorite screenwriter of Corman's who penned the original Little Shop of Horrors, among many others), Eat My Dust! is as wacked-out as anything to come out of the American International Pictures factory, and it is still surprisingly fresh and funny. Howard plays Hoover Niebold, son of a small-town, no-nonsense sheriff (Warren J. Kemmerling) and a prime candidate for dreary obscurity with his nowhere job and dull love life. Hoover takes a risk and asks out a popular girl (Christopher Norris), but after she demands that he steal the car of a professional racer (Dave Madden), the young hero abandons his innocence for a wild ride. Griffith hammers on the chase action sequences, bolting a camera to the car's hood to instill maximum vertigo in viewers, and constantly finding new and witty ways to jazz up scenes of speeding autos terrorizing the roads. But the real hook is the film's distinctive mix of youthful energy and comic irony, the latter exploding in Griffith's gallery of rural half-wits and neurotic, middle-class stereotypes. A whole cloth Z vision of teen rebellion writ large, Eat My Dust! is a corker. –Tom Keogh
Grand Theft Auto
Ron Howard directs and stars in this Roger Corman-produced feature-length car chase, and Grand Theft Auto was made to appeal to the 12-year-old in all of us who likes to see stuff blow up. Poor boy Sam Freeman (Howard) and rich girl Paula Powers (Nancy Morgan) are in love, but Daddy disapproves. They steal the Powers family Rolls Royce for a Vegas elopement, Paula's ex-fiancé puts a bounty on her head, and from then on you can just forget about the plot and watch a zillion cars crash into each other, not to mention a couple of helicopters and an ice-cream truck. In many ways this is a quintessential PG-rated '70s movie: plenty of wholesome fun involving the destruction of public and private property, and every now and then someone says the S word to liven things up. And yes, it is surprisingly satisfying to see a Rolls Royce Silver Cloud get smashed all to hell. The 25th-anniversary special-edition DVD includes interviews with Roger Corman and Ron Howard, audio commentary from Corman and Howard, and a reproduction of the original press pack. –Ali Davis
————————————–
Format: DVD
——————–
Seth and Jonah are murderous twins who share an evil kinship. Damned from the moment of their births, the brothers possess a gruesome talent for telekinesis – a power they use in the most horrific ways imaginable. As their fellow students meet gory fates, the local law enforcement begins to suspect the twins' connection to some depraved murders. What started as a jealous rage escalates into a supernatural showdown – pitting brother against brother, evil against evil.
————————————–
Format: Blu-Ray
————————
Ground control has been receiving strange transmissions from the remaining residents of the Solaris space station. When cosmonaut and psychologist Kris Kelvin is sent to investigate, he experiences the strange phenomena that afflict the Solaris crew, sending him on a voyage into the darkest recesses of his own consciousness. In Solaris, the legendary Russian filmmaker Andrei Tarkovsky (Ivan's Childhood, Andrei Rublev) gives us a brilliantly original science-fiction epic that challenges our conceptions about love, truth, and humanity itself.