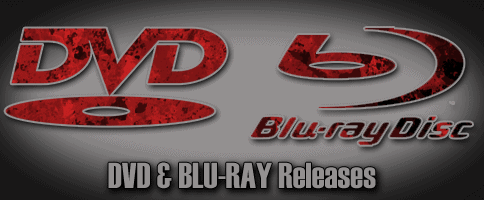 Short on money this week?  Well, guess what?  I'm short on releases.  However there is one release definitely worth your time for you Hi-Def fans.  Check out this week's releases.
All Descriptions of the following titles are provided by Amazon.com unless otherwise noted. If you plan on buying a flick from this list, please click on the links provided or click on the cover as it helps us pay the bills around here. Also, unlike most sites, we provide the Netflix widget which we think is pretty convenient to add these films to your queue. If you don't have Netflix, feel free to click on "Free Trial" and try it out!
——————————————–
Format: DVD
———–
Purporting to be real footage of an exorcism that inspired the blockbuster 1970s horror film, this feature observes a young woman in the throes of demonic possession. German Anneliese, 23, appears to exhibit signs of epilepsy, but soon the medical professionals called to her bedside are stumped by her symptoms. As the woman's house becomes plagued by paranormal phenomena, a priest is called upon to exorcise the evil spirit.
Anneliese: The Exorcist Tapes on Netflix
———————————-
Format: DVD
————-
U.S. Army Ranger Shawn Black (Michael Matthias) returns home from Afghanistan to find that his parents have been brutally murdered. But when he discovers that his war hero brother has been reborn as the Vampire King known as Kane (Vinnie Jones of X-Men: The Last Stand), he vows revenge on the vampire army that slaughtered his family. Now with the help of a rogue priest (Michael Madsen of Reservoir Dogs) with a taste for machine guns and a party girl (Rachelle Leah of UFC®) with a love of muscle cars, Black will battle Kane and his blood-crazed legions on a highway that leads straight to Hell. Kat Von D ('LA Ink'), DMX (Never Die Alone) and Armand Assante (American Gangster) co-star in this horror-thriller packed with explosive action, high-speed mayhem and total supernatural carnage.
The Bleeding on Netflix
———————————-
Format: Blu-Ray (Also previously available on DVD)
————
International screen icon Delphine Seyrig stars as Elizabeth Bathory, an ageless Countess with a beautiful young 'companion' (Goth goddess Andrea Rau) and a legendary legacy of perversion. But when the two women seduce a troubled newlywed couple (French beauty Danielle Ouimet and John Karlen), they unleash a frenzy of sudden violence and depraved desire that shocked both art house audiences and grindhouse crowds worldwide. Co-written and directed by Harry Kumel, DAUGHTERS OF DARKNESS remains one of the most exquisitely mesmerizing adult horror films ever made. Blue Underground is proud to present the uncensored Director's Cut of this classic psychosexual shocker in luscious High Definition and packed with revealing Extras!
Daughters of Darkness on Netflix
———————————-
Format: DVD
————–
Dr. Henry Pryde (Bernie Casey) is a noteworthy scientist who is working on an experimental remedy for liver damage. Along with his colleague, Dr. Billie Worth (Rosalind Cash), he perfects a serum that has the potential to reverse damaged liver tissue. Pryde also donates his services as a medical practitioner to a free clinic in the Watts projects. Pryde begins a series of unorthodox experiments to test his serum, and uses the serum on himself. The results are disastrous: he transforms into a hulking white-skinned hooker-murdering lunatic.
Not available on Netflix
———————————-
Format: DVD
————-
Rose is a down-on-her-luck prostitute who s short on cash. When she hears of a mysterious client named Jacob who pays a large sum of money for one night in a hotel, she goes against her better judgment and takes the assignment. At the hotel, Jacob proves to be a strange client: he s willing to pay up front, and more interested in honest conversation than anything else. Then, just as Rose begins to feel at ease, she learns that her latest trick is about to undergo a transformation by the light of the full moon and she s about find herself trapped in close quarters with a terrifying monster. Featuring Shellie Chapman (aka adult film sensation Tori Black) in a breakout role as Rose, Half Moon will sink its fangs into you and not let you go till its bloody, hair-raising climax.
Not Available on Netflix