Rosemary's Baby is one of those films that I just love. Since it was one of my mother's favorite films and she had it on DVD, I always watched her copy. However, since I have been on my own for sometime now, I realized this was one movie that I didn't have on DVD and it has been Out of Print for sometime now. I figured a new DVD release would happen eventually so I held out. Earlier this year, Criterion released drawings that hinted to releases for 2012. One image seemed like a dead giveaway but also seemed right. DVD Active has confirmed that everyone's suspicion was correct.
The Criterion Collection will be releasing Rosemary's Baby on Blu-Ray and DVD on October 30, 2012 just in time for Halloween. Read below for all the details.
Release Date: 30 October 2012
SRP: $39.95
Synopsis: Terrifying and darkly comic, Rosemary's Baby marked the Hollywood debut of Roman Polanski. This wildly entertaining nightmare, faithfully adapted from Ira Levin's best seller, stars a revelatory Mia Farrow as a young mother-to-be who grows increasingly suspicious that her overfriendly elderly neighbors, played by Sidney Blackmer and an Oscar-winning Ruth Gordon, and self-involved husband (John Cassavetes) are hatching a satanic plot against her and her baby. In the decades of occult cinema Polanski's ungodly masterpiece has spawned, it's never been outdone for sheer psychological terror.
Disc Features
-New high-definition digital restoration, approved by director Roman Polanski, with uncompressed monaural soundtrack on the Blu-ray edition
-New interviews with Polanski, actor Mia Farrow, and producer Robert Evans
- Komeda, Komeda, a feature-length documentary on the life and work of jazz musician and composer Krzysztof Komeda, who wrote the score for Rosemary's Baby
-1997 radio interview with author Ira Levin from Leonard Lopate's WNYC program New York and Company on the 1967 novel, the sequel, and the film
-A booklet featuring an essay by critic Ed Park and Levin's afterword for the 2003 New American Library edition of his novel, in which he discusses its and the film's origins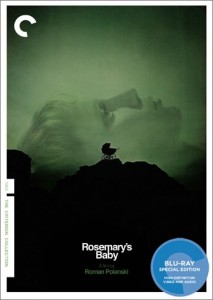 I think it is great that Criterion kept the original poster art on this one as it is one of the most uniquely yet simplistic poster designs in history. The pre-order isn't available on Amazon.com yet, but we will update this post once it is.