I remember hearing about Battle Royale back in 2000 and it was available through many bootlegs but I always held out waiting on a proper release. Come 2005, I realized that North America might not be getting the proper release I have been waiting for so I imported a Korean version of the film on DVD. All the special features didn't have subtitles and I could only enjoy the Tarantino endorsement. Now, 2 DVD sets and the Arrow Films Blu-Ray set later, Anchor Bay will be releasing the film and its sequel on Blu-Ray & DVD.
From the Press Release:
Battle Royale. A title that has shocked, thrilled and unnerved audiences. A film whose fiendishly simple premise has inspired many imitations, including the upcoming The Hunger Games motion picture. Based on the 1999 global best-seller by Koushun Takami, the futuristic tale first came to the screen in 2000, directed by the legendary Kinju Fukasaku. Authors, filmmakers and film fans the world over consider the film and its 2003 sequel Battle Royale II: Requiem sacred cinematic classics. And now, fans can own them on high-definition Blu-ray™ and DVD!
On March 20th, Anchor Bay Entertainment proudly brings the Battle Royale: The Complete Collection to Blu-ray™ and DVD for the first time in North America. Featuring state-of-the-art HD transfers, hi-res audio and a wealth of bonus features that delve deep into this truly international phenomenon – the three disc Blu-ray™ plus bonus DVD set has an SRP of $49.99 and an SRP $44.98 for the four disc DVD. Battle Royale will also be released separately on Blu-ray™ for an SRP of $29.99 and DVD for an SRP of $24.98. Battle Royale will be available digitally via select outlets including iTunes® and Xbox LIVE®.
Battle Royale: The Complete Collection's four disc set Blu-ray set will include:
Battle Royale Director's Cut

with Japanese Dolby TrueHD 7.1, English Dolby TrueHD 5.1, and English subtitles.

Battle Royale Theatrical Cut

with Japanese and English Dolby TrueHD 5.1, and English subtitles.

Battle Royale II

with Japanese Dolby TrueHD 5.1 and English subtitles.

Battle Royale

Bonus disc (DVD).
The bonus DVD will feature:
The Making Of Battle Royale
Battle Royale  Press Conference
Instructional Video: Birthday Version
Audition & Rehearsal Footage
Special Effects Comparison Featurette
Tokyo International Film Festival 2000
Battle Royale Documentary
Basketball Scene Rehearsals
Behind-The-Scenes Featurette
Filming On-Set
Original Theatrical Trailer
Special Edition TV Spot
TV Spot: Tarantino Version
The Battle Royale  single disc Blu-ray release will only include Battle Royale: Director's Cut  with Japanese Dolby TrueHD 7.1, English Dolby TrueHD 5.1, and English subtitles.
Below is the cover art for both editions: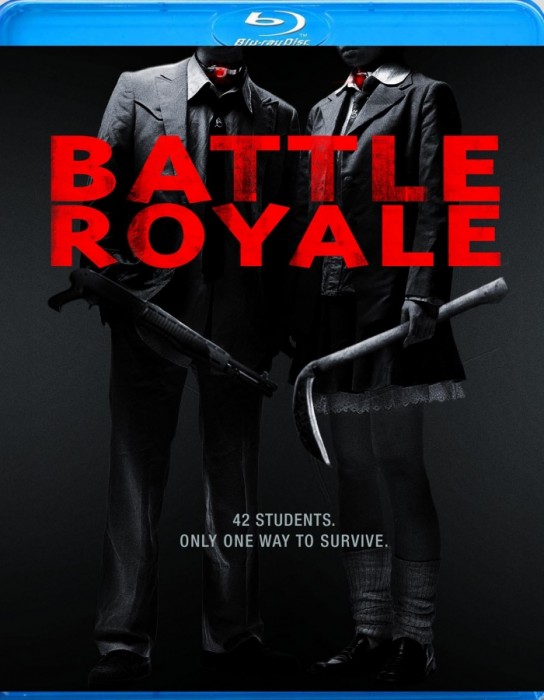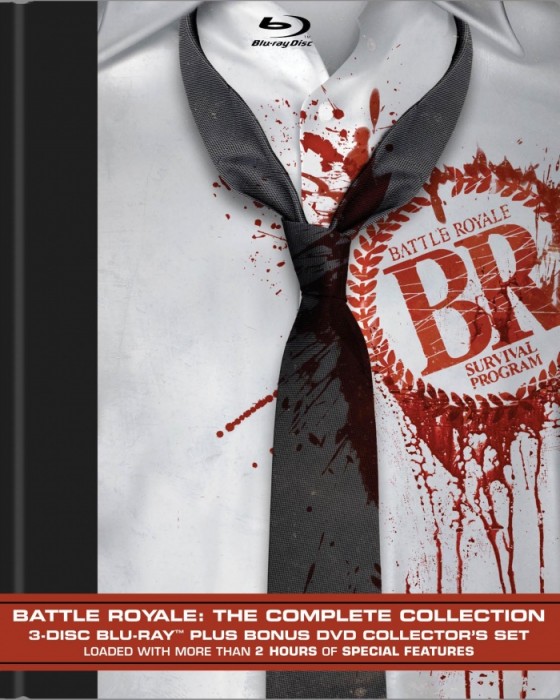 Most fans of this film may have picked up the awesome Arrow Films Blu-Ray Limited Edition Box Set which blows this one out of the water. However, being the completest I am and the fact that I absolutely love this slice of violent melodrama, I might end up picking up this set as well. The only thing this set seems to have that the Arrow Films Limited Edition release, which is "out of print" (you can still find copies but it is more expensive than it was in December 2011), didn't have was Battle Royale II. I know that Anchor Bay is trying to cash in on The Hunger Games, which they should. I just wish that Anchor Bay would be a bit more bold and give this film a limited theatrical release.
Amazon.com has the 3-Disc Blu-Ray for Pre-Order as well as the DVD version of the Complete Collection. The Single Disc is also available for Pre-Order on Blu-Ray & DVD.