Mark Danielewski is putting out a new book, The Fifty Year Sword, later this month, and he'll be making a stop in St. Louis to promote it.  Danielewski will be at  Christ Church Cathedral –Episcopal  (1210 Locust St. St Louis, MO 63103) Wed, Oct. 24th, at 7 pm for a discussion and to sign copies of the book. This popular horror author wrote House of Leaves, one of the scariest books of all time, and he's returning to the horror genre with this next book.  I know that some of DTB's audience is familiar with his work, but for those of you who aren't, if you consider yourself a genuine horror connoisseur, you really MUST READ House of Leaves!  I hope that The Fifty Year Sword continues the author's successful reign of terror.  The event is co-sponsored with St. Louis' Left Bank Books.  The author will give a free talk at the event but you must  purchase The Fifty Year Sword from Left Bank Books for a ticket to the signing line. Check out the synopsis of the book below.
Mark Z. Danielewski, the best-selling author of House of Leaves and Only Revolutions, returns with a ghost story for grownup readers. In The Fifty Year Sword, a local seamstress named Chintana finds herself responsible for five orphans who are not only captivated by a storyteller's tale of vengeance but by the long black box he sets before them. This powerfully chilling novella also includes interior art designed and stitched by the author and a team of three "seamstresses."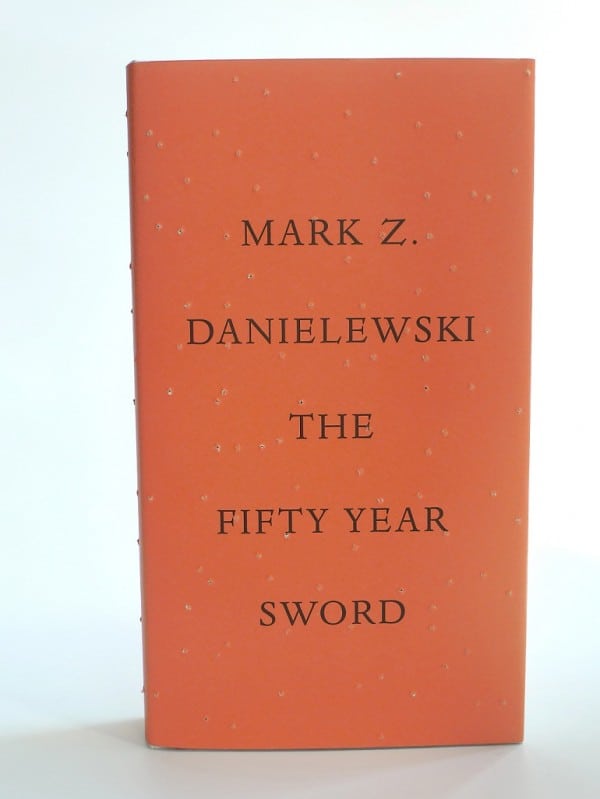 If you don't live in St. Louis but still want to check out the new book which arrives October 16, click the Amazon link below.