This Marvel sequel looks to already be shaping up to be better than its predecessor.  Marvel's Thor didn't wow me by any means.  Chris Hemsworth certainly fit the part as the Asgardian warrior, but the film as a whole felt lifeless and never seemed to be interested in telling the main character's story; instead, focusing on all those around him.  Thor: The Dark World is set for release next year and is already looking like something that will satisfy my hunger for a more focused, action driven story.  If the leaked story rumors are true, I'm sure I will be pleased with the outcome.  The sequel is being brought to us from Game of Thrones alum Alan Taylor.  Taylor's attention to detail which the show became known for is evident in the leaked images seen below of the main villains Thor has to do battle with.
The images should obviously be considered as somewhat of a spoiler.  They are embedded below, but if you want to see a larger version of them, click the source link below.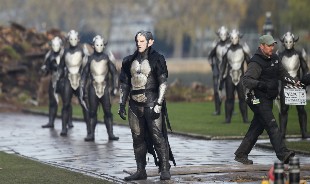 Source: MTV.com
Like this article? Creep on these!
The dust from the box-office explosion The Avengers created has barely cleared the air and news and info on Marvel's "Phase [...]
This summer marks an interesting one for superhero fans.  Not only will fans have a variety of different capes, tights, and armor to [...]