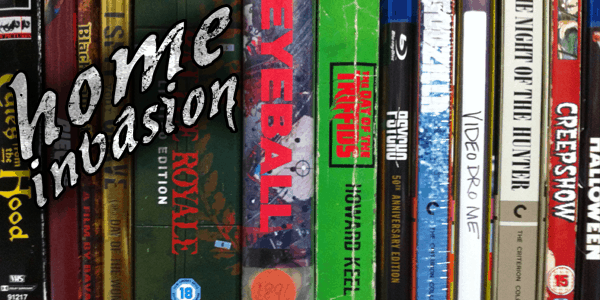 Home Invasion is a weekly post every Tuesday which shows you what is being released on Blu-Ray & DVD today! We scoured through Amazon to bring you everything you might be interested in. Our Picks of the Week are releases that we are looking forward to checking out, have reviewed and/or were are Picks of the Week on the DTB Podcast. All descriptions are courtesy of Amazon.com unless noted otherwise. If you are thinking about purchasing any of these items, by clicking via the links provided, you are supporting DTB. Thank you!
---
This Tuesday is packed! Warner Brothers has issued some re-releases in steelbook form today as well as some other quality releases today from Severin Films, Impulse Films, Vinegar Syndrome and more.

AN ALPHABETICAL ARSENAL OF DESTRUCTION This explosive film is comprised of 26 individual "chapters" on the topic of death, each helmed by a different director assigned to a specific letter of the alphabet. Provocative, funny and shocking, this anthology is the deffinitive vision of modern horror diversity. Get ready to learn your ABCs!

---

A group of summer camp pranksters get the scare of their lives when they target the camp's creepy caretaker…and he takes bloody revenge! "Gruesome" (The Hollywood Reporter) and "stomach-churning" (Boxoffice), this terrifying tale is "a brilliant slasher flick [and] gory as hell" (slasherpool.com)!

After a cruel joke goes awry, severely burning him and subjecting him to five years of intensive, unsuccessful skin graft treatments, Cropsy (Lou David) is back at camp…and ready to wreak havoc on those who scarred him! With his hedge clippers in hand, he terrorizes the camp and systematically mutilates each victim. Can a few courageous campers save themselves and destroy this demented madman before he kills them all?

Starring Brian Matthews (Crime Stopper), Leah Ayres (Bloodsport), Brian Backer (Fast Times At Ridgemont High), Larry Joshua (Dances With Wolves) and featuring early film appearances by Fisher Stevens (Short Circuit), Jason Alexander (Seinfeld) and Holly Hunter (Raising Arizona), The Burning is a grim and nasty movie [that] gets under your skin (efilmcritic.com)!

---

From Academy Award-winning director Steven Soderbergh (Traffic) comes this suspenseful and provocative tale of intrigue starring Channing Tatum, Academy Award nominees Rooney Mara and Jude Law, and Academy Awardr winner Catherine Zeta-Jones. After her husband (Tatum) is released from prison, Emily (Mara) begins suffering from terrifying anxiety and turns to psychiatrist Dr. Banks (Law) for help. But when Banks prescribes an experimental drug for her, the side effects have chilling and deadly consequences. Full of unexpected twists, Side Effects is the sexy psychological thriller that critics are calling "wildly unpredictable!" (Marlow Stern, Newsweek)

---

Films Include Subspecies Three students studying the folklore of Transylvania uncover more than they anticipated when they stumble upon a clan of vampires ruled by the monstrous Radu. The sadistic vampire becomes obsessed with making them his fledglings and pursues them relentlessly. Wielding the power of the Bloodstone, a relic that drips the blood of the saints, Radu and his subspecies – a pack of small, sinister creatures – give the girls a true understanding of the local mythology. Bloodstone: Subspecies II In the second installment of the Subspecies series, Radu's fledgling and love interest, Michelle, flees from his castle with the holy relic – the Bloodstone. Meanwhile, as a new vampire, Michelle struggles with her emerging bloodlust. To escape Radu, she hides in the basement of a theater in Bucharest, waiting for her sister to arrive from the US to help her – before it's too late. Bloodlust: Subspecies III – Bloodlust brings the third coming of Radu, who captures his fledgling, Michelle, and returns her to the castle he shares with his sorceress mother. Radu teaches Michelle how to master her vampire powers. Meanwhile, Michelle's sister, Becky, plans an armed assault on Radu's stronghold. She is determined to save her sister's soul – and this time she's brought some help.

---

Price: -

When two young lovers are savagely beaten and tortured on a back country road in Texarkana, local police are baffled. Three weeks later, two more people are slain in a similar setting and Deputy Norman Ramsey fears a pattern might be developing. Texas Ranger J.D. Morales (Ben Johnson, The Wild Bunch) is brought in to help. The two officers must find the Phantom Killer before he can kill again. Also starring Andrew Prine (Grizzly) and Dawn Wells (Gilligan's Island), directed by Charles B. Pierce (The Legend Of Boggy Creek), and based on one of America's most baffling murder cases, this horrifying suspense thriller is a shocking experience you'll never forget.

Special Bonus Feature: Charles B. Pierce's The Evictors (DVD ONLY)

A nice young couple move into an eerie house located in a small Louisiana town, unaware of its violent history. Soon they find themselves tormented by the previous owners. Vic Morrow (Combat!, Humanoids From The Deep), Michael Parks (Django Unchained, Argo) and Jessica Harper (Suspiria, Phantom Of The Paradise) star in this chilling horror film.

---

Other Releases this Week

Like this article? Creep on these!