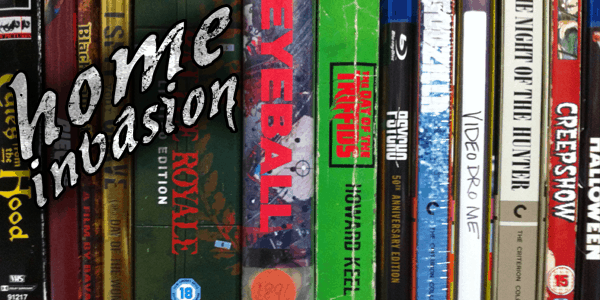 Full Review
Home Invasion is a weekly post every Tuesday which shows you what is being released on Blu-Ray & DVD today! We scoured through Amazon to bring you everything you might be interested in. Our Picks of the Week are releases that we are looking forward to checking out, have reviewed and/or were are Picks of the Week on the DTB Podcast. All descriptions are courtesy of Amazon.com unless noted otherwise. If you are thinking about purchasing any of these items, by clicking via the links provided, you are supporting DTB. Thank you!
Not a lot out this week but we have gathered everything we could. Scorpion Releasing is putting out some stuff this week and they always put out some decent stuff.

The armies of Hell have taken over the Earth, and all that stands in the way of the villainous Count Draculon and humanity's total extinction is a motley crew of misfits led by the mighty MANBORG: a warrior that's half-man, half machine, but all hero. 

Once a young soldier killed during first war against Hell, Manborg reawakens in the future, rebuilt as a walking weapon and mankind's last hope. Struggling to learn the secret of his origins, Manborg unwittingly befriends a post-apocalyptic Australian punker, a knife wielding vixen, and a kung-fu master, before finally squaring off against Count Draculon in a desperate and bloody bid to take back the Earth! 

---

THE WAY OF THE DRAGON

Tang Lung (Lee) flies to Rome to help his friend, Chen Ching-hua (Nora Miao). She is being forced by local gangsters to sell her restaurant, and they will stop at nothing to get the property. When Tang proves to be a threat to the syndicate's plans, they hire the best martial artists, including Colt (Chuck Norris). The two men battle in the ancient city's majestic Colosseum in what is regarded by many as the finest martial arts combat ever committed to celluloid (BBC)! Written and directed by Bruce Lee, this film became the inspiration for a legion of martial arts and action movies that followed (BBC)!

GAME OF DEATH

Billy Lo is a young kung fu star with a promising career. As the leader of a syndicate known for its exploitation of entertainers, Dr. Land (Dean Jagger) jumps at the chance to capitalize on Billy's status and that of his singer girlfriend. Refusing to sign with Land, Billy's martial arts mastery is put to the test when he is brutally harassed by Land's men. In a stunning showdown, Billy must go one on one with each of the villains in some of the most explosive fight scenes ever filmed (Leonard Maltin). Tragically, Bruce Lee passed away during the production of this film.

---

Other Releases This Week

Like this article? Creep on these

Here are your Blu-ray releases for January 13th, 2015.

Here are the new releases for December 23rd and December 27th, 2014. ​

Here are the new releases for December 16th, 2014.