The Deep End of Horror…

Synopsis
In the dark days of World War II, the Nazi High Command ordered its scientists to create a top secret race of indestructible zombie storm troopers – un-living, unfeeling, unstoppable monstrosities that killed with their bare hands. They were known as The Death Corps. No member of this horrific SS unit was ever captured by the allied forces – and, somewhere off the coast of Florida, they have survived…!
---
Sign up on the LNGH Newsletter by filling out your email address below.
---
Be sure to RSVP for the day you are going. Admission is only $7 and we have our infamous pre-show for you that starts around 11:30pm!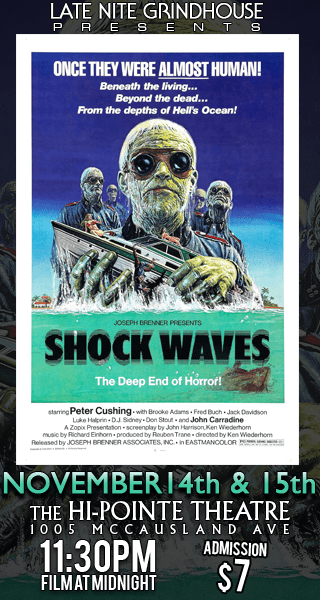 Late Nite Grindhouse Presents
'SHOCK WAVES'
Friday, November 14th, 2014
&
Saturday, November 15th, 2014
At The Hi-Pointe Theatre
Located at 1005 McCausland Avenue
Saint Louis, MO
Admission: $7
Pre-Show @ 11:30pm
Film @ Midnight