In tribute to Menahem Golan and continuing the Hooper trend…

From the director of Poltergeist and the co-writer of Alien comes a thrilling sci-fi adventure of explosive action and pulse-pounding suspense! With mind-blowing special effects by Academy Award® winner John Dykstra (1977 Best Visual Effects, Star Wars), Lifeforce is a gripping mélange of genres that's "so bizarre, it's fascinating" (Leonard Maltin)!
Synopsis
A mission to investigate Halley's Comet discovers an even stranger phenomenon: an alien spacecraft! Following a deadly confrontation, the aliens arrive on Earth, where their seductive leader begins a terrifying campaign to drain the lifeforce of everyone she encounters. Her victims, in turn, continue the cycle, and soon the entire planet is in mortal danger. And when the mission's sole survivor (Steve Railsback – The Stunt Man) sets out to destroy her, he comes face to face with the most charming – and horrifying – being he's ever known. Will he be able to destroy the lovely vampiress…or will he become yet another victim of her fatal charm?

Late Nite Grindhouse will be presenting the 4K restoration of this horror classic!
Trailer
---
Sign up on the LNGH Newsletter by filling out your email address below or texting "Brain" to 44144!
---
Be sure to RSVP for the day you are going. Admission is only $7 and we have our infamous pre-show for you that starts around 11:30pm!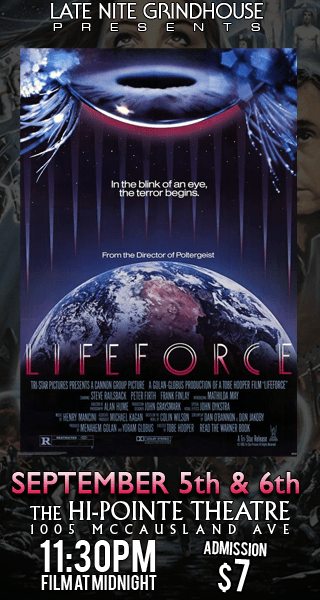 Late Nite Grindhouse Presents
'LIFEFORCE'
Friday, September 5th, 2014
&
Saturday, September 6th, 2014
At The Hi-Pointe Theatre
Located at 1005 McCausland Avenue
Saint Louis, MO
Admission: $7
Pre-Show @ 11:30pm
Film @ Midnight