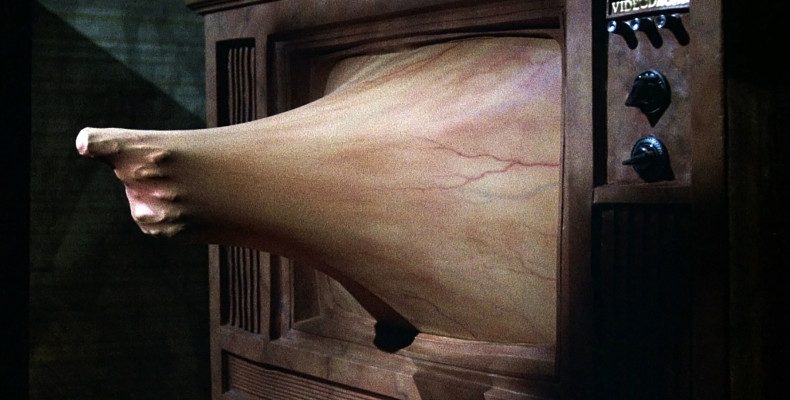 LONG LIVE THE NEW FLESH!
In case you haven't heard, Late Nite Grindhouse had to move venues in order to continue (read more here). From here on out, the theater that will play host to Late Nite Grindhouse is the Moolah Theatre & Lounge. To celebrate this new flesh, I wanted to bring in the Cronenberg classic, Videodrome. If you have never experienced Videodrome, you're in for a mind melting trip.
As the president of a trashy TV channel, Max Renn (James Woods) is desperate for new programming to attract viewers. When he happens upon "Videodrome," a TV show dedicated to gratuitous torture and punishment, Max sees a potential hit and broadcasts the show on his channel. However, after his girlfriend (Deborah Harry) auditions for the show and never returns, Max investigates the truth behind Videodrome and discovers that the graphic violence may not be as fake as he thought.

Tickets are still $7 and you can buy them online here.
Our psychotronic pre-show starts around 11:30p with the film at Midnight.
Unlike our previous venue, Hi-Pointe Theatre, the Moolah Theatre & Lounge serves alcohol until 3am (no more double fisting beer purchases at 12:45a, unless you just wanna).
Click here RSVP for Friday's Show
Click here RSVP for Saturday's Show
Like this article? Creep on these!

Late Nite Grindhouse has teamed up with our good friends over at Grindhouse Releasing to get a sneak preview of their new restoration [...]

1984's entry into the popular slasher franchise, Friday the 13th: The Final Chapter, is one of the better Friday the 13th [...]