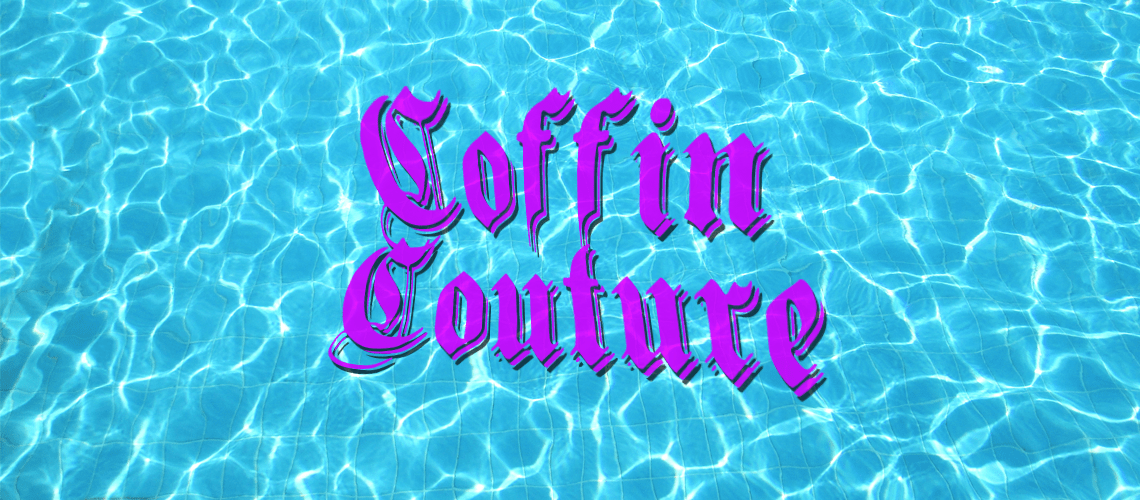 As it is officially summer, it is my sworn duty as Destroy the Brain's fashion consultant to bring to you the latest in horror inspired warm weather wear. As I've often said in this column, the worlds of horror and heavy metal are forever intertwined. So I've also included a few items that will appeal to those of you with headbanging tendencies.
First up is the slightly ridiculous silicone "Killkini" (pictured above, $80) from Denver, Colorado shop, Blood Lust Productions. This itsy-bitsy-teeny-weenie Brazilian cut number even glows in the dark. Which in my estimation will only make you easier to find while you're being chased by a deranged slasher in a hockey mask, that just so happens to match the one on your crotch. But as bizarre as the Killkini is, Blood Lust took swimwear to the next level of hell with the creation of the "Necronomokini."
Of all the curiosities in the Blood Lust shop, nothing made me say "I CAN'T" more than this bikini (which also comes in an equally grotesque "Monokini" design, YIKES!). The suit is of course based on the Necronomicon Ex-Mortis (or the Book of the Dead) that gave Bruce Campbell a run for his money in the 1983 film, The Evil Dead.
Despite my thoughts on the Necronomokini, I'm pretty sure Ash would approve. Now if I could only remember the words to make it go away…Klaatu…verata…n…Necktie. Nectar. Nickel. Noodle? Fuck it. Moving on.

Dem Guts swimsuit by Black Milk.
I've often featured clothing in this column from Brisbane, Australia based clothier, Black Milk. As with pretty much everything they make their "Dem Guts" swimsuit is sadly sold-out. Luckily, (or perhaps unluckily) you can get a knock-off that is just as nasty over on Amazon

Jaws digital print swimsuit. Prices vary.
Have you ever wanted a swimsuit with a digital print from the 1975 film Jaws? If so, your fervent prayers have finally been answered thanks to this suit (pictured above) that features one of the most terrifying and iconic images in the history of cinema. Jaws is currently celebrating it's 40th anniversary with a limited big screen theatrical release so, why not honor this major milestone by flaunting this suit to your next beach party. Just stay out of the water. Prices vary by vendor.

Face print swimsuit by Jeremy Scott for Adidas, 2013
When designer Jeremy Scott introduced the world to this face print swimsuit ($95) back in 2013, it sold out immediately. While it's not horror movie related per se, it is justifiably horrifying. No matter how bathing suit ready your body is.

Diddo Velema's inside-out wetsuit
Since I always try to feature something for the guys on CC, here's an inside-out wetsuit by conceptual artist and designer Diddo Velema's. Serious inquires only. Since "serious inquires only" is code for "you can't possibly afford this", here's a more reasonable and completely metal alternative for all you summer time headbangers. Board shorts featuring the album art from Iron Maiden's 1985 record, Live After Death.

Iron Maiden Live after Death board shorts by Vans
I love these board shorts so much, I want a pair for myself. Unlike the Death Magnetic Metallica board shorts put out by Billabong, these trunks are hard to track down. Despite their elusive nature, I highly recommend hunting down a pair via auction sites such as Ebay.
Next up to spruce up your summer wardrobe is this super creepy tank top based on the long-running fantasy horror television series, Supernatural. You can get one over at every Goth's favorite retail shop, Hot Topic for $19.
These made-to-order flip flops by Let's Rage feature images from some of films more recognizable murderers, slashers and straight-up psychopaths such as Jack Torrance from The Shining, Pennywise from It, and Michael Myers, among others. You can pick them up for less than $20, here. Cafe Press also has an impressive selection of horror movie themed flip-flops for less than $20 featuring images based on vintage horror films like Psycho, The Brain that Wouldn't Die, and 1932's, The Mummy.
As a former surfer and child of the 80's, Zinka Nosecoat sunblock was once a staple of mine. Zinka came in pretty much every color in the rainbow, including BLACK. Yeah, that's right, black sunscreen. Happily, Zinka is still available for a mere $4.95 over at Amazon. Squeee! And speaking of being beach ready, there is probably nothing cooler to be seen with on the beach than a heavy metal themed beach towel. And yeah, they are even cooler looking than the words "heavy metal beach towel" sounds.

Heaven and Hell jumbo beach towel.
Holy DIVER! There are 110 towels in Heavy Roxx's collection, all covered with images or album art from metal bands like Alice Cooper to WASP. The towels ship from the equally metal sounding destination of Ahiolo, Bulgaria and will run you about $35 bucks each. I want every single one. A few of my favorites follow.

Pantera Cowboys from Hell jumbo beach towel.

Alice Cooper Trash jumbo beach towel.

Kiss Dynasty jumbo beach towel.
With a little help from yours truly, you are now ready to take on summer! So why wait for Halloween? Get out in the sun and scare the shit out of everyone you can. Happy summer my fellow creeps!
Like this article? Creep on these!
Ash gives us some sugar...with the first 4 minutes of Starz's ASH VS. EVIL DEAD!
Check out the new trailer for ASH VS. EVIL DEAD premiering this Halloween on Starz!
While some fans of the original The Evil Dead weren't happy with the remake/reboot, I found it to be pretty nihilistic and it [...]