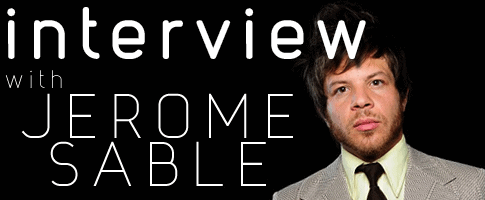 Sable & Batalion's The Legend of Beaver Dam has been playing some of the premiere film festivals since September.  It played TIFF, Fantastic Fest, Stiges and just recently played at Sundance 2011.  I received a screener prior to Fantastic Fest – thank god because I missed it on the big screen because of my schedule – and I fell in love with it.  The short film takes the familiar story of an urban legend being told at a campfire setting.  However, the end result of this fantastic short film is anything short of predictable. Blood and the piercing screams of horror & rock are just some things you can find in this 10 minute blessing.  Today, I bring you the long delayed interview with the director, Jerome Sable.
You can read my review of the short film here shortly.  I was very excited to get to interview Jerome at Fantastic Fest.  Then I got the news that he wasn't going to be able to make it to Austin.  However, I loved the short so much, I knew that I had to interview him & pick his brain about some stuff.
The interview was conducted in mid-October.  I apologize about the delay.  I realized I hate transcribing interviews. Enjoy!
Andy Triefenbach: Before we get started, I wanted to say congratulations on all the awards that The Legend of Beaver Dam is winning.
Jerome Sable: Thank you.
The Legend of Beaver Dam has won multiple awards including:
Best Horror Short Film at Fantastic Fest 2010
Best Short Film at Screamfest LA
Best Short Film at SITGES Festival Internacional de Cinema Fantàstic de Catalunya
Andy: Did you just get back from Stiges?
Jerome: Yes I did.
Andy: How was the experience?
Jerome: It was amazing.  I was actually very blown away by the whole festival. I had a great time.  I was worried because that was going to be the first time they were showing the film with subtitles and I'd never have done that before so I was concerned on how that was going to work and if the subtitles would be correct and timed properly.  It ended up working out great.  We opened up for Tucker and Dale vs. Evil, have you seen that?
Andy: Not yet but I have heard about it.
Jerome: Well, we opened up for Tucker and Dale and it was at one in the morning which I thought was a late time but they explained to me 'No, No, this is Prime Time!'.  They were absolutely sold out, people were lined up around the block and the fans were very, very supportive, very loud, very enthusiastic and there was loud cheering and applause and it was just like an awesome screening.  I was so happy I was there.
Andy: What was the origin of The Legend of Beaver Dam
Jerome: Well, you know it's a true story right?
Andy: (laughs) Is It?
Jerome: (laughs) My friend Eli Batalion and I, we used to musical theater for many years and we just knew we wanted to make a musical movie.  But of course, for us, we wanted to do something that had some real guts, pun intended I guess.  We sort of wanted to do a musical that really was not your typical Broadway, show tunes-y type of thing.  So, for us, we said let's try to do a horror musical.  Let's do a full-on rock, metal musical.  And, um, you know, who better to be screaming rock metal than a campfire ghost.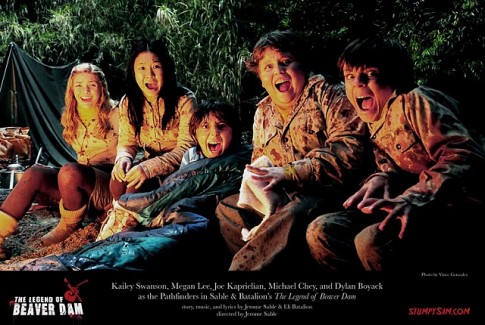 Andy: Given your background in your musical skits and even your show J.O.B., you used hip-hop for the music. Why a rock musical this time around?
Jerome: We are music lovers so there's a lot of different genres that we love to listen to and love to compose in. But, we knew for a long time a burning desire to do rock.  Especially because we have spent so many shows on hip-hop, we love hip-hop as well, and we had done several shows over the course of several years that were all based around hip-hop, or slam poetry. So, the desire to do a rock opera or a rock musical of some kind had been brewing for a long time because we love that genre of music as well and just hadn't gotten a chance to express ourselves in it.  We love Led Zeppelin, we love AC/DC, Black Sabbath and we wanted to do something that had some real punch to it but also have a story.  We were dying to do it.
Andy: How would you explain The Legend of Beaver Dam to general audiences or even specifically horror fans?
Jerome: It's a campfire tale that goes horribly wrong, or horribly right depending if you are the general audience or the horror audience.  There is a set of campers and a counselor and the counselor is telling a ghost story and trying to spook the little campers out.  And then, all of the sudden, he gets spooked because the ghost story becomes true.  It's then up to nerdy Danny Zwigwitz, who's usually picked on by his peers, to step it up and save the day…all through rock music.
Andy: How did you guys score comedian Sean Cullen?
Jerome: Sean was awesome.  We met with him very early on when we just had a script and the music composed.  So, we reached out to Sean because we knew he would be perfect for the role.  We had coffee with him and he looked at the script and the music and basically said "Yeah!  I'll do this".  He was attached to the project even before we got the funding and he helped us get the funding because people were very interested because we had Sean Cullen.  It was all because he believed in the script and the music.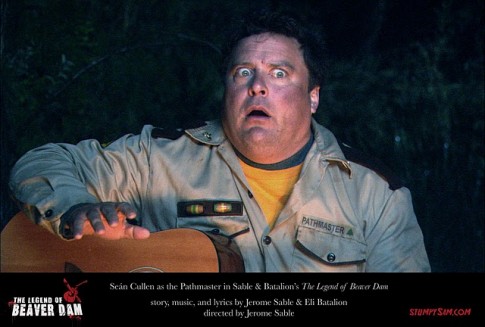 Andy: One thing I noticed after watching the film was that you must of had some elements against you.  You are dealing with a night shoot, you have kids involved and it doesn't look like it is too warm out there.  Am I far off?
Jerome: It's funny you should ask.  This is something I don't normally people before they've seen the short, uh, because it doesn't necessarily make them excited to see it. I usually only tell this to people after they've seen it.  But, since you ask, I will tell you…the weather was HORRIBLE.  We actually had rain for the majority of the time we were shooting.  It was the WORST luck for a three night overnight shoot.  Quite honestly, it was a miracle that we pulled anything out of it.  Well, it wasn't a miracle per se, it was due to everyone's hard work and perseverance.  But honestly it was THE WORST shooting conditions and we had people, Union crew – grips and electric – who literally said that in all of their experience working, they have never seen such bad conditions that they had to keep filing through.  Everyone had such a great attitude.  The kids were so good, focused and disciplined and everyone just wanted to make it happen but, really, the whole first and second night were basically rained out.  Then, on the third day we also had rain but we went into overtime and we had some spots without rain.  We just managed to make it.  It was literally….yeah, we had kids, we had fire, we had cold, we had night, we had rain.  It was really an uphill challenge.  It was just based on everyone's hard work and good attitude that we made it through at all.
Andy: (surprised) Isn't this your first film?
Jerome: We kind of think of it that way.  I kind of made some short films while I was in film school.  This is the first one out of school.  As far as the work I've been doing with Eli Batalion, the fact that we have been doing theatre and then I went to film school, this was sort of a reunion of Batalion and I and the sort of FIRST project for us in film.  We have done many shows for the stage and then I came out of film school and we said 'Alright, let's continue the work we were doing in live performance but on film." So, in that sense, as a Sable & Battalion project, this was our debut film.
Andy: Cool.  Are we going to see more Sable & Batalion shorts or are we going to see the immediate jump to feature film?  In your recent press release, it was mentioned that you both are wanting to make a feature film in the vein of The Legend of Beaver Dam.
Jerome: Yeah, that is what we are working on right now.  We have written the feature already and we are now in the, I guess you can call it, 'dating phase' where we are meeting with different producers and production companies in trying to get that set up and we are very excited about it.  It is a horror musical but it is not the same characters as Beaver Dam.  The kids are a little older, they're teenagers and it takes place at a performing arts camp.
Andy: I've been curious to ask since you both come from Montreal and you have co-created a horror musical, what are your thoughts on the Evil Dead Musical?  If I'm not mistaken, it generated out of Just for Laughs in Montreal, did it not?
Jerome: It actually started in Toronto and then a producer at Just For Laughs, who is actually a friend of ours, saw it in Toronto and brought it to Just For Laughs in Montreal, which is where I saw it.  And I'm actually friends with the actor who is in it at that time, Ryan Ward.
Andy: Oh, Ok.
Jerome: …and um, have you seen the show?
Andy: I actually caught the production last year [Editor's note: It was 2008, not 2009].
Jerome: Oh cool.  Was it with Ryan?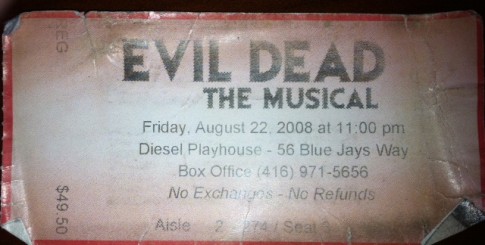 Andy: Yeah!  Ryan was Ash and it was badass.
Jerome: Yeah, it was great.  Ryan is amazing.  In fact, initially we were talking with Ryan about Stumpy Sam.  It was unfortunate that it didn't work out schedule wise at all. Not that it was unfortunate in the end, I mean we love what Rick Miller did with it, but it was funny that you mention this because we were originally of thinking of who we know and Ryan was certainly on our list.  We loved, I liked Evil Dead: The Musical a lot. It was definitely a lot of fun and it just shows you lots of stuff that you can do.  You know, people say 'oh, horror musical, that sounds new' but, you know, the truth is there's been other horror musicals, you know.  Not only Rocky Horror Picture Show but Little Shop of Horrors and Sweeney Todd – The Play.  There are other works out there that have combined and even just the field of theater called Grand Guignol, you know, just sort of all sorts of creepy theater that's been done. There's lots of interesting stuff.  So yeah, I love Evil Dead and really liked Evil Dead: The Musical as well.
Andy: Any future plans on releasing The Legend of Beaver Dam after it does the festival rounds or are you even thinking about that right now?
Jerome: It has to do the festivals first because they require premiere status and then it will be on certain television stations.  I know it will be on TV in Canada at some point and certain European television markets as well.  And it may end up online one day either on Hulu or iTunes or some other platform.  It's not determined and it's a long way off.  I mean, ultimately, we just created it for audiences and we would like as many people that are interested in seeing it as possible.  But, I'm definitely enjoying the festival format because that is where people can see it on the big screen with big sound and that is ideally, for me, the best way to see it.
Andy: It deserves to be very, very loud.
Jerome: Oh yeah.  That's the other thing, the festivals that I can't make it to, um, we just send some instructions to the projectionist but I don't even know how loud they play it.  But when I can make it, I go in and do a sound check, I make sure it is cranked up!
Andy: Awesome.  Thanks Jerome for doing the interview.  I really, really enjoyed the short and I can't wait to see what you guys come up with next.
Jerome: Thank you man.  I appreciate it.  We hope you will like it.
Andy: You need to come to Fantastic Fest next year (2011), I don't care if your movie is playing or not.
Jerome: I know man, I really want to go. It sounds just so awesome.  I was bummed to miss it. You're right, I should go regardless.  Hopefully, we will have our feature, if not next year, the year after when it's all done.
If you get a chance to see it, SEE IT!  Otherwise, please keep your eyeballs out for, what I think, is one the best and most entertaining short films in the past decade.  View the trailer below: