Destroy the Brain has free tickets to check out Jennifer Lawrence in House at the End of the Street a day prior to its release. Wanna check it out? Well, we make it pretty easy to do so. Just read below to find out how to enter.
Trailer:
Synopsis:
Seeking a fresh start, newly divorced Sarah (Oscar®-nominee Elisabeth Shue; Leaving Las Vegas, Piranha 3D) and her daughter Elissa (Oscar®-nominee Jennifer Lawrence; TheHunger Games, X-Men: First Class, Winter's Bone) find the house of their dreams in a small, upscale, rural town. But when startling and unexplainable events begin to happen, Sarah and Elissa learn the town is in the shadows of a chilling secret. Years earlier, in the house next door, a daughter killed her parents in their beds, and disappeared – leaving only a brother, Ryan (Max Thieriot, My Soul to Take), as the sole survivor.  Against Sarah's wishes, Elissa begins a relationship with the reclusive Ryan – and the closer they get,the deeper they're all pulled into a mystery more dangerous than they ever imagined.
This movie is rated PG-13.
Website: http://www.facebook.com/HouseAtTheEnd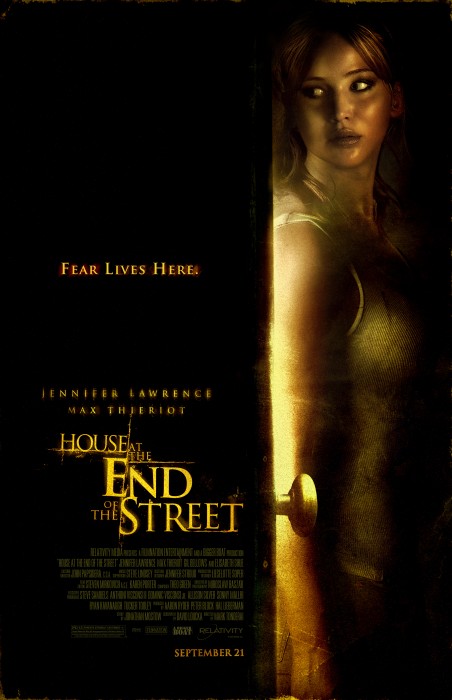 How to Enter to Win Tickets:
The screening is on 9/20 so please make sure you are available prior to entering.

Like us on Facebook.

Answer the following question: Name 3 horror films with the word 'House' in the title. We will not accept House 1-4.

Good Luck! You will be notified on the morning of 9/20 if you are a winner!