Destroy the Brain & LD Entertainment would like to invite you to a FREE ADVANCE SCREENING of Killer Joe. This one is definitely on our list of films to check out. We hear that Matthew McConaughey pulls in a great performance that should even attract his naysayers. If you even are remotely interested in this film, check it out on our dime. Please read all the rules in order to be qualified to win the advance tickets.
Synopsis:
When 22-year-old Chris (Emile Hirsch) finds himself in debt to a drug lord, he hires a hit man to dispatch his mother, whose $50,000 life insurance policy benefits his sister Dottie (Juno Temple). Chris finds Joe Cooper (Matthew McConaughey), a creepy, crazy Dallas cop who moonlights as a contract killer. When Chris can't pay Joe upfront, Joe sets his sight on Dottie as collateral for the job. The contract killer and his hostage develop an unusual bond. Like from a modern-day, twisted fairy tale, "Killer Joe" Cooper becomes the prince to Dottie's Cinderella. Based on the play by Pulitzer and Tony Award winner Tracy Letts, "Killer Joe" is a garish, provocative black comedy from Academy Award-winning director William Friedkin (The Exorcist, The French Connection) and stars Emile Hirsch, Matthew McConaughey, Juno Temple, Thomas Hayden Church, and Gina Gershon.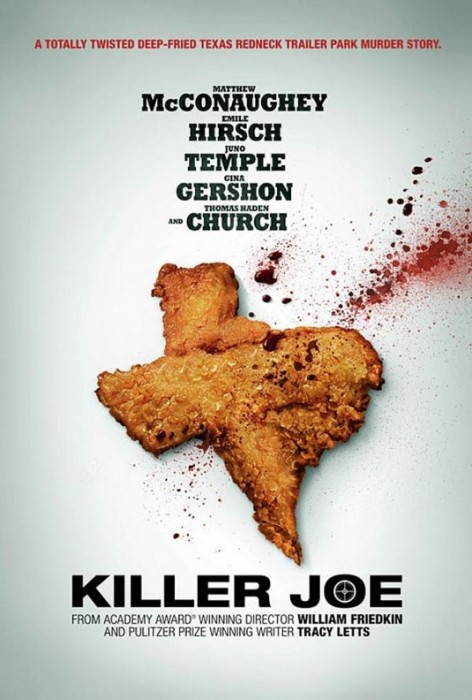 A TOTALLY TWISTED DEEP-FRIED TEXAS REDNECK TRAILER PARK MURDER STORY.
Film is Rated NC-17. No one 17 and under admitted.    
OPENS IN THEATERS FRIDAY, AUGUST 24, 2012
Facebook: Facebook.com/KillerJoeTheMovie
Twitter: #KILLERJOE
How To Win Passes:
You MUST BE 17 Years or older to attend as the film is rated NC-17 (for more info, visit mpaa.org).
Leave a comment below with what your favorite crime thriller is.
When signing up for a comment, please be sure to leave your full name & sign up with your email address. If you do not sign up with your email address, we will have no way to contact you letting you know if you won or not.
Screening Info
August 21, 2012 at 7pm
Theater Info will be given to the Winners