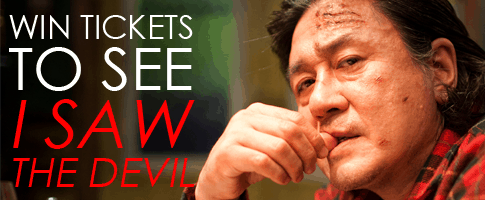 One of the better genre films I saw last year was I Saw The Devil (review here).  Now, it will be in St. Louis for a one week engagement this month.  Lucky for you, Landmark Theatres has offered a ticket giveway for Destroy the Brain readers.  We have tickets to give away so you can see this gem for free!  Click beyond the break on how you can check it out.
WARNING: I SAW THE DEVIL IS EXTREMELY VIOLENT.
SYNOPSIS:
I SAW THE DEVIL is a shockingly violent and stunningly accomplished tale of murder and revenge from Korean genre master KIM Jee-woon (The Good, The Bad, The Weird and A Tale of Two Sisters). Oldboy's CHOI Min-sik plays Kyung-chul, a dangerous psychopath who kills for pleasure. The embodiment of pure evil, he has committed horrifying and senselessly cruel serial murders on defenseless victims, successfully eluding capture by the police.

On a freezing, snowy night, his latest victim is the beautiful Ju-yeon, daughter of a retired police chief and pregnant fiancée of elite special agent Soo-hyun (The Good, The Bad, The Weird's LEE Byung-hyun). Obsessed with revenge, Soo-hyun decides to track down the murderer, even if doing so means becoming a monster himself. And when he finds Kyung-chul, turning him in to the authorities is the last thing on his mind.

The lines between good and evil fall away in this diabolically twisted game of cat and mouse. Pushing the concept of revenge to its most extreme limits, KIM Jee-woon brilliantly transcends the police procedural and serial killer genres in surprising and thrilling new ways.
To score these tickets, which are admit two passes, all you need to do is send an email by clicking HERE.  Make sure your name is provided so we can put you on the list and we will email you if you win the tickets.  The screening is March 22nd at The Tivoli.