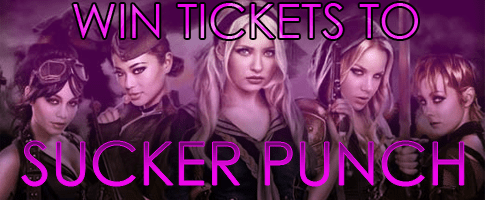 Hey St. Louis!  Wanna see the newest film from Zach Snyder, director of Watchmen and 300 for free?  Fresh off of last year's preview from Comic Con, Sucker Punch is an epic action fantasy that takes us into the vivid imagination of a young girl whose dream world provides the ultimate escape from her darker reality. Unrestrained by the boundaries of time and place, she is free to go where her mind takes her, and her incredible adventures blur the lines between what's real and what is imaginary.  Click on Read More to learn on how to get these free passes.
Contest Rules:
This contest is only open to St. Louis residents or people who will be in St. Louis during the time of the screening.
IF YOU WIN, DO NOT DUPLICATE THE PASSES AS YOU WILL RISK NOT GETTING INTO THE SCREENING!
Since these tickets are free, the studios overbook the auditorium to assure that the theatre is packed.  My best advice is to get the to the theater at LEAST an hour prior to the screening.
Finally, in order to win these tickets, you will need to leave a comment below with the answer to the following question:
Even though Zack Snyder is a new director, he is one that has made films that affect pop culture.  What's your favorite Zack Snyder film?
Screening Date & Time:
Wednesday, March 23th at 10PM
NOTE:  DESTROY THE BRAIN now has a 3 strike system regarding passes.  If you sign up to win passes, win them and then inform us that you no longer need them because you won them elsewhere or simply cannot use them, we will add your name to the list and if this happens three times within 3 months, you will be disqualified from winning tickets in future giveaways.