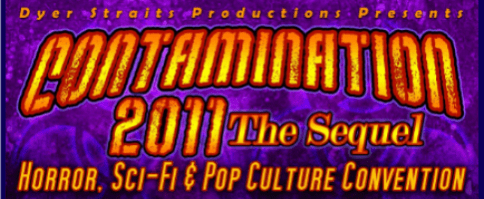 For the second year in a row, St. Louis will play host to Contamination.  Horror, sci-fi, and pop culture will all be spotlighted in this three day convention that includes guest appearances, film screenings, guest panels, artists,vendors, and a rocking late night concert.  Last year's successful debut event helped pave the way for an even bigger event then the one that preceded it.  Contamination 2011: The Sequel (aptly titled) will be held this Friday through Sunday June 24-26 at the Sheraton Westport Chalet.  Eric Roberts, Kane Hodder, Tony Todd, and the cast of The Boondock Saints are just a handful of the guests that will be featured at this year's event.  Keep reading to see all the details about Contamination.
This year's convention  holds host to a vast array of celebrities and cult figures all under one roof.  Where else are you going to see former porn stars Seka and Veronica Hart rub elbows with Dan Shor (Ram) from the original Tron?!?  Attending in a rare convention appearance will be Eric Roberts.  Recently the busy actor has appeared as villains in The Expendables and The Dark Knight.  Yet die-hard fans of the actor will remember him from the Best of The Best series.  Co-headlining the convention will be cast reunions for two cult films.  First up is the 1994 cast of The Fantastic Four.  Included in this reunion is actor Michael Bailey Smith, who horror fans may recognize as Pluto in The Hills Have Eyes remake. The second all-star reunion is for The Boondock Saints.  Sean Patrick Flanery, Norman Reedus, and David Della Rocco will all be attending.  Though, take note, Reedus will only be there on Saturday and Sunday due to him filming The Walking Dead.
Two of the stars from the original Conan The Barbarian will also be meeting fans this weekend: Sandahl Bergman who played Valeria and Ben Davidson who played the evil Rexor.  For you horror fans, Contamination has four classic slasher icons.  First, we have the most iconic Jason of the entire Friday the 13th series: Kane Hodder.  He has also slashed into the hearts of horror fans with the two recent Hatchet films.  Next up is Tony Todd.  Besides playing the iconic title role in Candyman, Todd is also most known for his leading role in Tom Savini's remake of Night of the Living Dead.  The third horror legend is Bill Johnson.  Bill created a different take on Leatherface in the 1986 film The Texas Chainsaw Massacre Part 2. Last but not least, is the actor who donned the Michael Myers' mask for Halloween: Resurrection before continuing on as a successful stuntman in such films as Watchmen and Tron:Legacy (as Jeff Bridges stunt double): Brad Loree.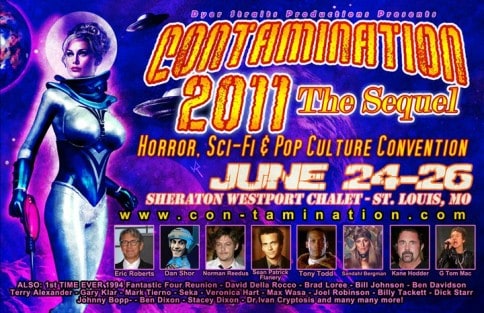 For fans of comic books, Gary Friedrich, the creator of Ghost Rider will be in attendance.  Artist Joel Robinson will be showing off his art as well as his DJ skills at a midnight dance party Saturday night.  This DJ set will be preceded by a concert with iconic musician G Tom Mac.  He is best remembered for writing and performing the theme song "Cry Little Sister" featured in The Lost Boys.  Make sure to also check out earlier that evening the world premiere of the new horror film Ratline, made by St. Louis' own Wicked Pixel Cinema.  So as you can see, this weekend will surely not be short on excitement.  For a full list of vendors, celebrities, and events, check out the website by clicking HERE.  Tickets for a weekend pass will only set you back $30.  For a single day pass on Friday -$10, Saturday -$15, and Sunday -$10 as well.  Destroy the Brain! will be there all weekend long covering the event.  If you see us, make sure to say "hello" or simply just kick us in the shin.  We will know if you are a trusted reader if you do this and most likely will thank you.  Go out and support this great event that is exclusive to St. Louis.  Fans of film and pop culture need to go out and support events like these so that they continue to happen in our own backyard.  You don't have to drive hundreds of miles to go to a convention filled with celebrities, collectibles, and crazy die-hard fans.  Contamination has you covered.