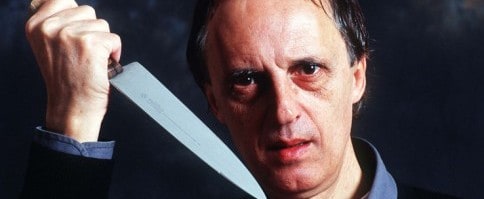 It is with sad news that I report that the promoters of Horrorhound Weekend Indianapolis have confirmed that Dario Argento will not be able to make his previously scheduled appearance this March.  Continue reading to find out why.
This post appeared on Horrorhound's message board late last night.
"Rumors had been circulation that filming for his next feature film – Dracula 3D – would be beginning this February (reported by Variety). After discussing the story with Dario himself, he revealed that the film was in fact MANY months away from being ready for filming (having yet been cast or with a crew set for filming the advanced 3D technology) – thus debunking the rumor that the film would be in front of lens this month – leaving all of us to believe crisis had been adverted.
The problem presented to us this week was that the production of the film is officially being set into motion – requiring Dario to begin pre-production in mid-March with filming of Dracula 3D expected to start sometime in May – thus putting an end to our four-month plan of having this legendary director attend HorrorHound Weekend."
To find out more information about what promoters have in store for a replacement and for all late breaking news on Horrorhound Weekend, head on over to their messageboard.  They have already added some additional guests including Tiffany Shepis, famous for her roles in numerous Troma films, and additional cast members of Lucio Fulci's classic House By The Cemetery.
I for one am super bummed about this recent announcement.  Dario has been on the top of my list of director's I would like to meet and most of my friends were going to Horrorhound specifically for that reason.  However, Horrorhound is always a blast and the guest list this year is fantastic with it's bent toward slashers and Euro guests.  I have no doubt that they will be able to secure a great replacement and I for one will still be attending.