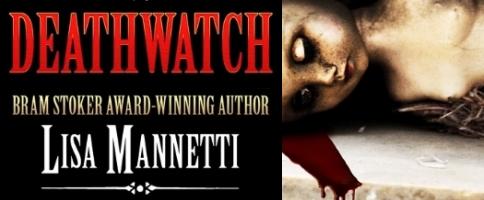 Lisa Mannetti's debut novel of haunted black magic The Gentling Box has earned her one Bram Stoker Award and she may kick her summer off with a second for the long fiction story "Dissolution" from her latest effort Deathwatch. Mannetti's fluid prose, chilling atmosphere, and attention to detail all culminate in the most frightening fiction of ghosts and possession today. To celebrate her talent and Bram Stoker Award nomination Destroy The Brain is giving away 2 copies of Mannetti's work. If you're a fan of frightening fiction that will have you sleeping with the lights on you have to read Mannetti. Find out how to win beyond the break.
Destroy The Brain has one copy of Mannetti's Bram Stoker Award-Winning novel The Gentling Box and one copy of Deathwatch (Destroy The Brain review here). Go to Lisa Mannetti's website, click "Contact" and put "contest" in the subject header, hit send and you've entered! Another way you can enter is to repost this contest on Twitter or Facebook. If you repost this contest please send an e-mail to meli AT destroythebrain DOT com with your Twitter handle or link to your facebook for verification.
This is a contest you don't want to miss. In addition to 2 really great books being up for grabs, Lisa Mannetti will personalize each copy per your request!
A huge THANK YOU goes to Lisa Mannetti for contributing to the giveaway and giving Destroy The Brain the opportunity to spread the word about great literature.