The Dark Corner of the Toy Box is a column at DTB that focuses on collectibles, action figures, statues, and memorabilia based around the types of movies, books, and video games we cover here on the site.
The line between beauty and the grotesque has always been blurred in film but more importantly in horror.  It's amazing how we can be as equally repelled and yet drawn in by an image that is so disturbing that it starts to become alluring.  In the Silent Hill video games and films, the "Nurse" demonstrates this more than anything.  With deformed facial features that practically hide their true gender, the "Nurses" fetishisized bodies and outfits are the only indication that maybe they are women.  But are they really women or just a sex-less creature made to seduce us?  It's a disturbing thought that is brought to reality in the form of a PVC statue set for release early next year.  Gecco, the Japanese figure maker, will be releasing the "Bubble Head Nurse" statue which you can now pre-order and view on Mamegyorai website.  Check out what they say about it along with some images below.
Toymunkey Studios in collaboration with Gecco Corp is proud to announce a new line of PVC Statues based on the popular Konami video game series and hit movie Franchise Silent Hill 2! First shown in unpainted form at Comicon 2012, this debut release promises to capture all the horror and suspense of the original series. These incredibly detailed prepainted 1/6 scale figures are constructed of durable PVC and are due this Fall/Winter. More products will be shown soon!"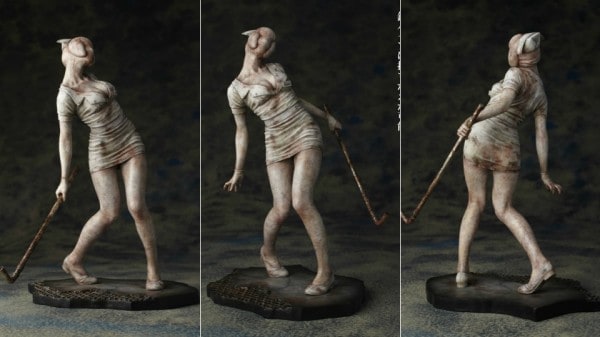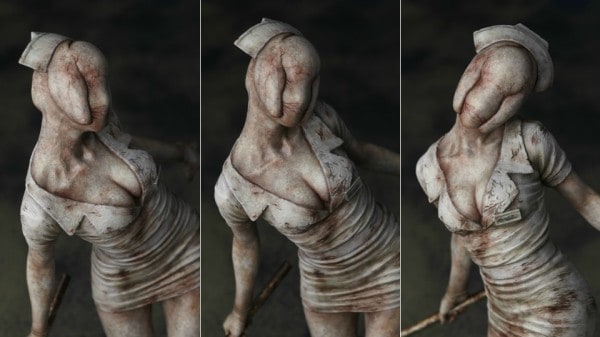 As you can see, the pose of the statue displays the off kilter and disorienting walk the character is known for.  A particular attention seems to be payed to the paint job on the figure.  The rust colors and bluish veins really pop out and create a creepy skin texture.  I'm not as big of a Silent Hill fan as others – simply because I don't have the time to play video-games anymore – but as a fan of the original game, I'm half-tempted to pick-up this gorgeous and disturbing statue.  While collectors and fans of the series wait for this new statue to be released, you can check out Silent Hill: Revelation 3D when it hits theaters this Friday.
Check back for more news on this and other collectibles that you will only be able to find in The Dark Corner of the Toy Box!